For Holiday 2022, US Shoppers Will Spend One In Four Dollars Online
This year, US total end-of-year holiday retail sales will reach $943 billion, growing 6.1% year over year. Forrester defines holiday retail sales as follows:
Holiday retail sales are the purchases of durable and nondurable goods that consumers make during November and December. These retail sales do not include automotive and gasoline sales and also do not include spending on services such as food and drink services at restaurants.
We expect US online holiday retail sales to reach $230 billion, growing at 14.6% year over year. The online share of total US holiday retail sales will reach 24.3%.
Following are highlights of US holiday online retail sales growth trends over the past few years and our expectations for this year:
In 2020, US online holiday retail sales grew at more than double the growth rate of 2019 as US consumers made more of their purchases online due to the pandemic. In 2021, that growth shifted from online to offline channels as stores reopened and COVID-19 restrictions were lifted.
In 2022, inflation — not volume — will drive US holiday retail sales. Consumers will purchase fewer goods, but the retail industry will see higher retail sales growth than in 2019 due to increased prices.
If we take out inflation, we expect flat retail sales growth this holiday season. By contrast, retail sales growth in 2021 was much higher than the inflation rate, meaning that it was driven by higher sales volumes.
An analysis of inflation specifically during the holiday period shows that it was about 2% from 2015 to 2019 (see figure below). It dipped during the 2020 holiday season and then rose sharply in 2021. For the 2022 holiday season, we expect inflation to be even higher than during the 2021 holiday season.
Our just-published 2022 Online Holiday Retail Sales Forecast, US report provides our US forecast for total retail sales, online retail sales, and offline retail sales specifically for the 2022 holiday season, with historical data going back to 2010.
If you are a Forrester client and want to learn more, please schedule an inquiry with me!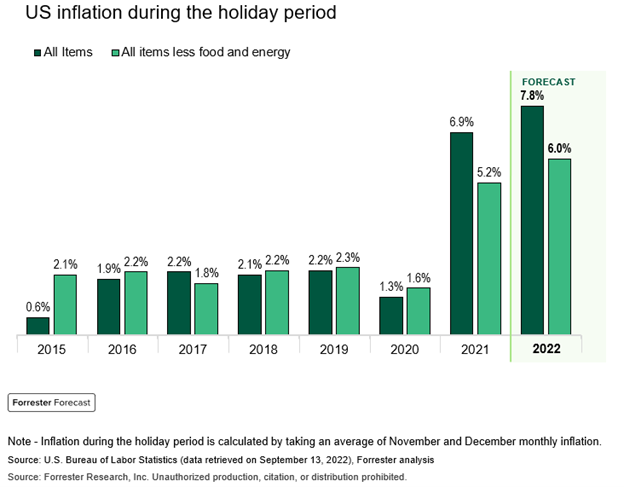 Related Forrester Content