Goliath's Challenge: DTC Startups Get Personal
In this battle between direct-to-consumer (DTC) startups — cast as the proverbial David — and their large, established brand opponents, victory is not about size or stature; it's about skillful weaponry.
In fact, if one looks at DTC startups' long-term growth numbers, a scorecard tally suggests that today's Goliaths will continue to dominate consumer retail behavior despite VCs pouring money into more than 400 digital-native, direct-selling, aspiring disruptors: Select DTC brands are growing into a force to reckon with, but most are still not turning substantial profit. Consumers love these brands, but they view them as another option — not a substitute for their current habits. Certain companies make headlines, like when Dollar Shave Club grabbed a 16% share of the men's razor market upon launch, but most new DTC brands only resonate with a niche consumer segment.
However, while the DTC buzz may fizzle, our latest research reveals that the emotional impact of these brands is leaving an indelible mark on consumer expectations. At a cultural moment when consumers are avidly looking for a relatable figure to be their champion, DTC startups use product, experience, and brand voice to embody the stories consumers want to hear with the deftness of David's slingshot. These young brands instantly prove that they are on the consumer's side.
Our recent data shows that consumers are heavily drawn to brands that forge personal relationships, deliver intimate experiences, and demonstrate genuine empathy for all stakeholders.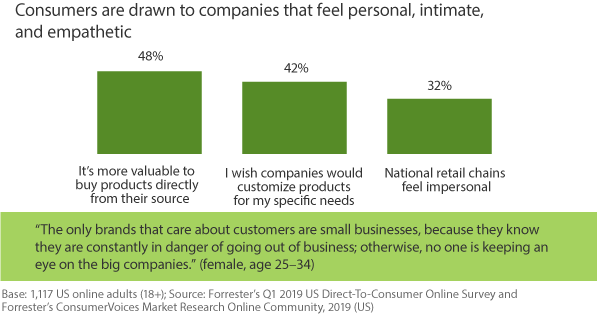 DTC startup and vegan delivery food brand Purple Carrot wins consumer attention and credibility when its founder recounts his personal experiences with food that inspired him to start the business. But to satisfy consumers' appetite for empathetic connection, companies don't have to be small — they have to master relationship building. For example, despite growing revenues and a diverse online marketplace of 60-million-plus items shipping across continents, Etsy delivers a best-in-class customer experience because it encourages dialogue between the buyer and seller. According to consumers, Etsy isn't just an online marketplace; it's a social community where buyers support burgeoning artists.
The battle for consumer attention and trust isn't new, but the surge of DTC startups has changed the game. Marketing leaders: Prepare to leverage large-scale operational efficiency to deliver small-scale emotional connection. This will require you to:
Listen and acknowledge; this is as critical as fulfillment. Getting products to people as promised is important but table stakes. Minimize the feeling of a big brand's remoteness and resistance to change by visibly using customer feedback to improve products and services.
Double down on intimate emotional experiences that feel local and personal. Maintain the sense of closeness with consumers by crafting product or service experiences that capitalize on benefits distinct to a direct relationship. Consider scaling technologies such as AI and warehouse automation that enable efficient, small manufacturing runs and agile fulfillment.
Act out your brand story; don't just tell it. Marketers are quintessential storytellers, but now they must move beyond pure engaging narrative and embrace a point of view. Aim for relevance, emotional reaction, and consistency across all elements from brand aesthetic to service quality.
This is just one piece to the puzzle of today's DTC momentum; the rising wave of DTC disruptors signals other critical shifts in consumer expectations and purchase drivers. Join us at Forrester's Consumer Marketing 2019 Forum April 2–3 in NYC to learn about the implications of DTC brands, collect lessons that advance your marketing leadership and strategy, and discover what else lies beyond the DTC revolution. Click here to register, or book an inquiry with me to discuss further.