Here's How You Pick The Right Digital Experience For Your Customer
The Problem: Digital Touchpoint Choice Architecture
Brands are shaped by the experiences that they provide, and today's experiences are overwhelmingly digital. As consumers interact with a brand in a multitude of ways (chat, voice, augmented reality, etc.), how does a company decide which digital touchpoints to make available? At its heart, this is a choice architecture question — which touchpoints to offer the consumer to pick from and which to nudge in hopes of a better experience. And this is precisely the question that my colleague Julie Ask and I tackle in our latest research as part of a broader theme of the customer-obsessed growth engine and the alignment between marketing, customer experience (CX), and digital leaders.
The Approach: Consumer-Driven Touchpoint Optimization
We solve the choice architecture problem using three steps:
We identify the three benefits that consumers seek in most of what they do: convenience, empowerment, and emotional engagement.

We associate these three benefits with the four most common categories of consumer activity.

We survey consumers on how five digital touchpoints perform on the three benefits we identified.
(How do we know all of this? We use Forrester's extensive knowledge of how people use technology, insights from our proprietary models focused on consumer energy and brand energy, and quantitative data from our November 2022 Consumer Energy Index And Retail Pulse Survey to figure it out.)
That gets us to the original problem: How do we know which touchpoint is the right one? Based on our three-step approach, we can associate activities with benefits and touchpoints with the same benefits; hence, we can infer the touchpoints best suited for each activity (three cheers for the transitive property!).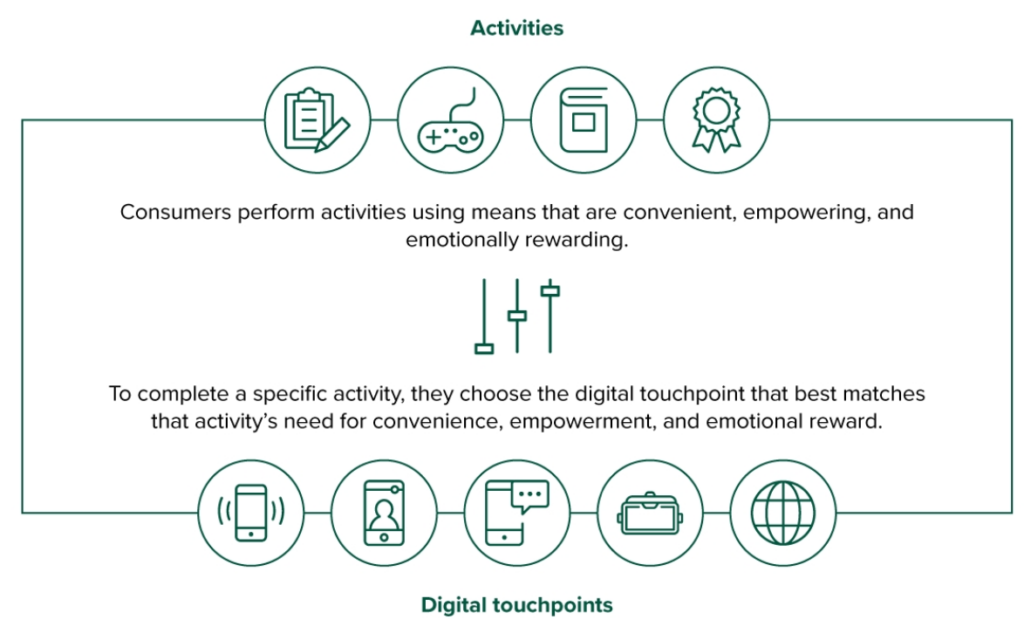 What Does This Mean For You?
Our goal with this research is to help you select and optimize digital touchpoints to best serve your customer at the moment of their need. Our report details five digital touchpoints and outlines the kinds of experiences that they are best suited for. For now, here's an amuse-bouche to whet your appetite:
Notifications, consumers tell us, are highly convenient and empowering. They add value by functioning as a helper — reminding, cajoling, and perhaps nagging consumers. They alert consumers and nudge them to complete tasks. But the magic really happens when you mix anticipation with notification: 100% of digital business executives (in Forrester's Global Emerging Technology Executive Survey) agree that proactively anticipating customer needs can help them differentiate.
Immersive worlds (you may be most familiar with the "metaverse" version) may not be convenient (according to roughly two-thirds of our respondents), but users report high levels of empowerment and emotional engagement, suggesting that these experiences are endowed with significant potential. Immersive worlds must evolve beyond marketing gimmickry to meet consumers in their activity streams and deliver their desired benefits. And while no metaverse may exist today, securing an option to exercise in a future where it does could pay rich dividends.
Interested In More?
Forrester clients: You'll get all the analyses and recommendations in our report: Choose And Optimize Digital Touchpoints To Fit Your Customers' Needs. To discuss the research with us, please request a guidance session. If you want us to bring this work to your marketing, CX, and digital teams, please contact your Forrester account team.
And if you're attending CX North America in Nashville this year and want to hear about how brands grow (through digital experiences and other ways), pencil in my session on Tuesday, June 13.