NFTs Are Having A Bromance With US Males
State Farm is jumping onto the NFT bandwagon with a football-themed treasure hunt running November 4–7. The insurance company is just the latest of a quickly growing list of brands experimenting with nonfungible tokens since they started gaining marketers' attention back in March with the launch of NBA Top Shot. That same month, NFTs officially entered the cultural zeitgeist when Saturday Night Live featured a rap-style explainer video of the crypto-based token.
An NFT (nonfungible token) represents a digital or physical asset (e.g., a photo, video, audio file, or painting) and is created and stored on a blockchain. NFTs are one of a kind and have an identifiable chain of ownership that allows them to maintain value and be traded as collectable items (similar to physical baseball cards or artwork).
In October, Forrester surveyed 1,002 online adults (506 US and 496 UK) to gauge what consumers currently think about NFTs. We provided a brief definition of nonfungible tokens, followed by a series of five statements for respondents to select those that apply (see chart below). We found that:
NFTs remain elusive to the everyday consumer. Nearly half of US online adults (45%) and over half of those in the UK (56%) have never heard of NFTs. And just over a quarter of online adults (28% US and 27% UK) indicated they still don't understand what NFTs are.

US online male adults are most eager for NFTs. One in five online male adults in the US (20%) indicate they already own at least one NFT — that's almost three times more than female adults in the US (7%). In the UK, only 8% of online male adults and just 2% of females responded the same. Purchase intent follows a similar pattern, as 37% of US online male adults express eagerness to buy an NFT versus just 16% of US females, 16% of UK males, and 13% of UK females.

The brand bandwagon rides ahead of consumer demand. While the headlines of yet another brand experimenting with NFTs have reached a seemingly daily cadence, consumers are currently skeptical of brand-led NFT stunts. Just 12% of US online adults and 7% of UK online adults would like to see more brands release NFTs as giveaways.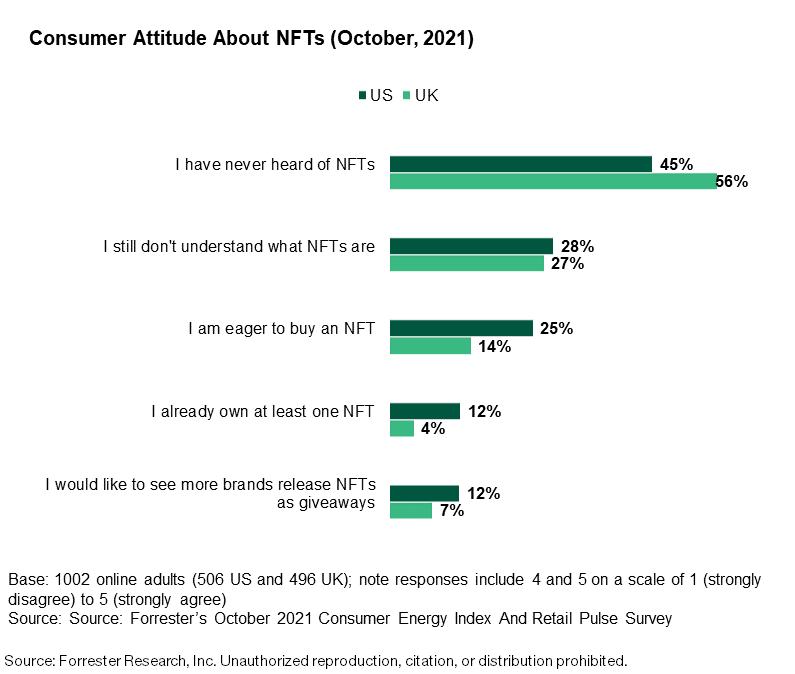 Greed Versus Good Will Test Trust In NFTs
Although brands are experimenting with NFTs in droves, they're up against a slew of growing pains:
Blockchains, cryptocurrency, and digital wallets are still foreign territories to the everyday consumer.
The environmental impact of many NFTs is at odds with brands' growing sustainability pledges, given the electricity that's required to support them.
There's an increasing amount of NFT fraud mired by scammers and hackers that's tainting the real intent of NFTs to build communities of like-minded interests.
Legal ambiguity exists on whether NFTs grant "ownership" of the actual digital asset or simply the token associated with the asset.
NFTs Will Come Of Age In The Metaverse
The current use cases for brand-led NFTs fall along a value spectrum. On one side are NFTs based on a brand's IP. Vault by CNN is a marketplace that offers collectors license to historical moments from the cable news network's archival footage. On the other side of the spectrum are one-off promotions like the NFT GIF that Crockpot auctioned off to celebrate the brand's 50th anniversary or, similarly, McDonald's McRib NFT sweepstakes happening through November 7.
PR stunts aside, NFTs will become far more interesting within the context of the metaverse — once it's actualized. One-of-a-kind digital art can help decorate your virtual home. Limited-edition sneaker drops can customize your avatar. And NFT tickets will give you exclusive access to VIP events happening within the metaverse. This will make NFTs more accessible and useful over the next decade, with better ways for brands to provide meaningful value exchanges with consumers through virtual products as well as hybrid digital/physical brand experiences. Forrester's survey finds that over half (51%) of US online male adults indicate that they would like to buy NFTs that exist/persist as part of their immersive virtual world.
We've officially kicked off research for a report on the state of the metaverse that will publish in early 2022. In doing so, we're speaking with as many metaverse stakeholders as possible (platforms, marketplaces, agencies, brands, etc.). If you're involved with advancing the vision for the (consumer) metaverse, we'd love to hear from you. Tweet me at @McProulx and let's set up a Forrester briefing.