Survival-Mode Digital Strategy: Focus On Pragmatic Modernization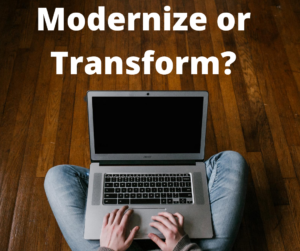 Digital leaders face tough decisions on where to invest limited funds. It's no surprise that interest in digital has skyrocketed in a post-COVID-19 world. CEOs who put off digital investments to focus on more pressing priorities may be wishing they heeded Forrester's advice from 2013 and 2014. Some digital teams are scrambling to modernize experiences and operations, implementing basic digital commerce capabilities that should have been in place in years ago. And adding to their challenges is under-investment in IT modernization — moving applications out of data centers onto cloud infrastructure and modernizing their core applications for cloud deployment.
Even companies late to the party have been able to weather COVID-19 much better. Despite trailing leaders like Amazon in digital strategy, Tractor Supply Company and Walmart have been able to take advantage of pre-2020 investments in digital capabilities.
But, based on my own research and observations over the past six years, most "digital transformations" are not transformational. I'd estimate that over 90% of companies are using technology to modernize their existing business model vs. transforming it.
Don't get me wrong: These are critical and much-needed investments. They often have near-immediate payoffs and create a level competitive differentiation, albeit for a limited period. But these much-needed investments are better described as tech-led business modernization vs. digital transformation. "Does it matter?" It matters because, without differentiating, executives too easily conflate tactical digital investments in the near term with forward-looking investments to build revenue-generating digital products.
Pragmatic Digital Modernization
Implementing a new eCommerce suite to improve the customer experience in a digital checkout can have a dramatic impact on improving customer lifetime value, channel revenue, and customer retention. Indeed, there is a minimum level of functionality your customers expect. If you fail to meet their expectations, you can expect to see customer attrition rates climb. And your customers' expectations are constantly rising. So, you must continuously invest in enhancing customer experiences just to stay in the game. Gaining sustainable competitive advantage requires a much more significant change in the business model.
Likewise, investing in retooling operational systems using modern technologies can yield a dramatic improvement in operating effectiveness. Operational modernization frequently delivers significant reductions in operating costs with a payoff in months not years. And because operational investments are less visible to competitors, they can be easier to sustain. This makes operationally focused "transformations" more appealing to many CEOs and CFOs compared with the often less-clear value from digital experience investments.
In the near-term, especially for firms in survival mode, business modernization is exactly where you should make tech investments. If your business is in survival mode, set up an inquiry or check out the related research below.
Related Forrester Content