The Age Of Reinvention In Lending
The lending landscape is changing rapidly. While many of the drivers of change emerged over the past decade, COVID-19 has dramatically accelerated the pace of disruption. COVID-19 introduced massive business and operational challenges, turning lending risk assessment and management on its head. Borrowers' expectations — applying for loans easily and quickly on digital touchpoints — have increased, but many lenders don't meet borrowers' urgent demand for credit due to antiquated systems and processes.
While some lenders have begun to digitize parts of the origination and onboarding journey for small- and medium-sized businesses (SMBs), most haven't embarked on a holistic transformation. Why? Too many process and cultural gaps and a lack of digital capabilities among SMB lenders.
To reinvent SMB lending, lenders must change the narrative from the lending journey to a borrowing journey. They also must create a reference framework to establish common terms, how to configure those terms, and how to design and implement those terms:
Provide the customer context. This articulates why the business, business unit, or domain exists and how it will transfer value to its customers. The customer context normally includes some of the following: financials, stakeholders, markets, customers or personas, benefits, objectives, customer lifecycle or journey, business lifecycle or workstreams, and operational concept.
Specify the services and capabilities needed to support the customer context. This defines what the business, business unit, or domain needs to execute in terms of the business context. The business reference model typically identifies key activities, services, products, business capabilities, value streams, and business-critical information.
Identify the technologies that enable both the business and customer context. Many technologies can help lenders overhaul internal processes and transform small business lending (see figure below).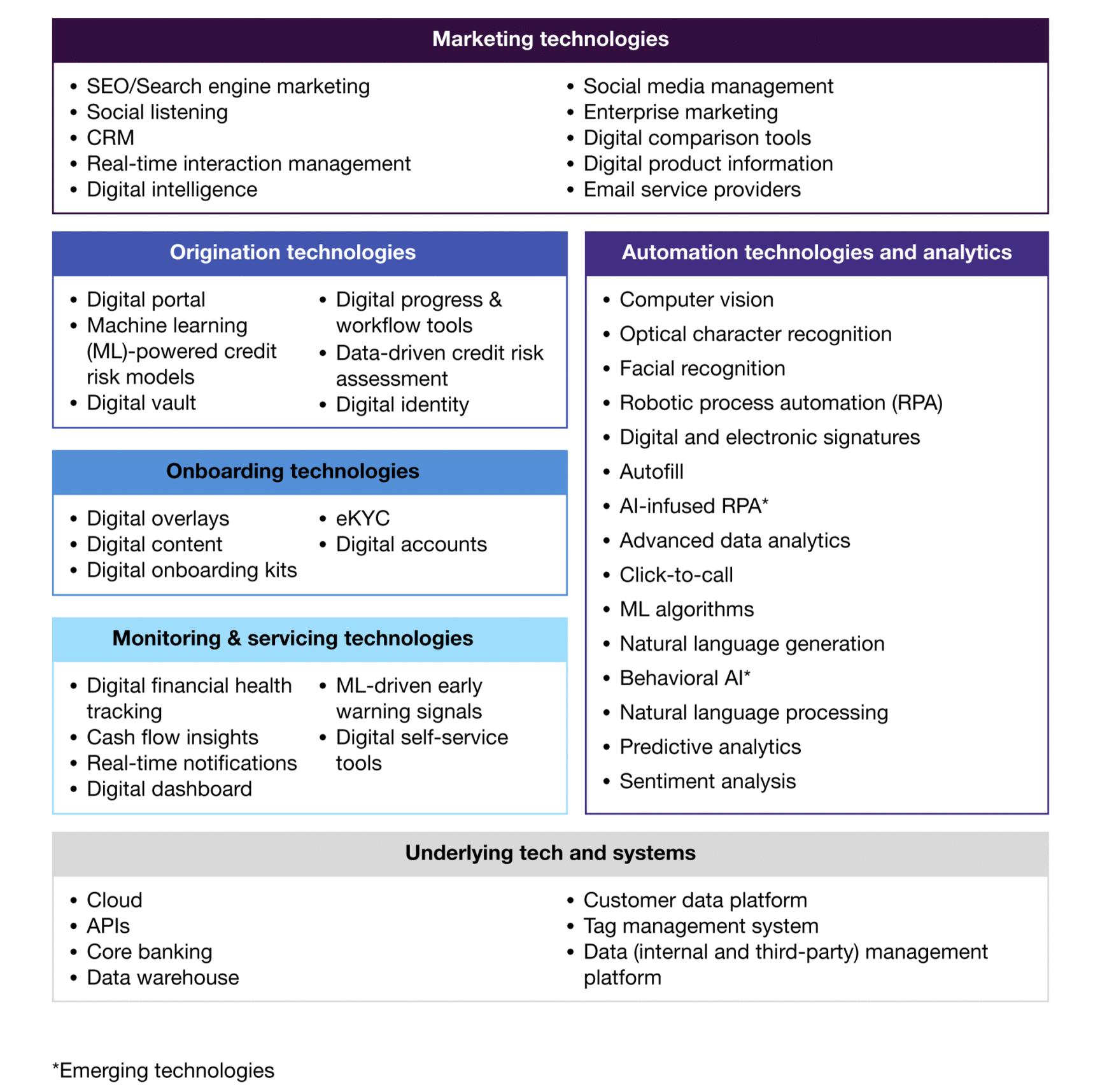 Digital business and technology leaders in charge of transforming SMB lending must embrace change to adapt to the evolving lending landscape, as a host of new players — including tech giants, marketplaces, software providers, and e-commerce players — and emerging technologies are fundamentally changing how SMBs access loans.
To understand how to reinvent lending and win in this dynamic lending environment, click here for my latest report or book an inquiry with me. Stay tuned for my next report on loan origination software providers.
A huge thank-you to the individuals from these companies who generously gave their time during the research for this report: ANZ Bank, Bank of America, Blue Prism, Demystdata, Duedil, Dun & Bradstreet, Experian, Finastra, FIS, Iwoca, Jack Henry, Kabbage, Lumi, Mambu, MX, nCino, Nucleus Software, OakNorth, Sopra, Sandstone Technology, Tata Consultancy Services, TD, Temenos, United Overseas Bank, Westpac, Xero, and Yapily.