The 12 Tales Of Leadership
Leadership in essence is about persuasion — winning people's hearts and minds. Leaders must connect with empathy and emotion to lead, influence, and inspire. Stories connect with us emotionally. And our emotions drive our decisions subconsciously. We do this before we apply logic and intellectual reasoning to justify the decision we already made subconsciously. Leadership storytelling is therefore a powerful leadership communication skill that leaders can use to better connect, motivate, and align people to action.
Not Art For Art's Sake
You use different stories for different challenges to achieve different outcomes. You must therefore be clear about the purpose for using the story. Otherwise, you risk using the wrong story in the wrong situation or focus on the story for its own sake rather than the meaning you want to instill in your audiences' minds. Over the last year, I have connected with many clients on how they can use the power of story in different leadership scenarios. It has been insightful and sometimes surprising to see what these challenges are. For example, I did not expect to see the scenario where leaders needed to rebuild the team's morale after a setback. And this came up several times.
A Canvas For Leadership Storytelling
I have collated these scenarios in my latest report, Develop Your Leadership Stories With Scenario Quick Start Cards, where I recommend how you can develop and use stories to address these leadership communication challenges — also known as the "12 tales of leadership." Each scenario offers guidance on how you can apply storytelling to effectively handle these challenges. Stories are based on the four core story types: 1) vision; 2) change; 3) origin; and 4) values.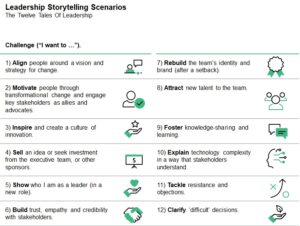 Do these scenarios and challenges resonate with you as a leader? Feel free to connect with me to further explore how you can apply the unique power of storytelling to be a more effective and authentic leader.