Thoughts From Cannes Lions 2023
Last week, I spent some time at the Cannes Lion 70th International Festival of Creativity. I hadn't been to the event since back in the days when I was covering mobile advertising for Forrester.
It is pretty obvious that over the past 10-plus years, US tech players have progressively dominated the ad industry. After only few minutes on the Croisette, however, you immediately feel how massive the shift has become. The Carlton, JW Marriott, Martinez, and Majestic luxury hotels and the beaches are all sponsored by the likes of Google, Meta, Amazon, Snapchat, TikTok, Netflix, etc., with a bit more visibility this year for Spotify (Swedish firm, though) and its music concert. Almost a third of all delegates are US agency and advertising executives enjoying the perk of spending almost a week on the French Riviera. As Stephan Loerke, CEO of the World Federation of Advertisers, summarizes in his key takeaways, "We have spent years discussing the plumbing of the digital ad ecosystem, helping to fund all those yachts in the harbour and platform-funded beaches."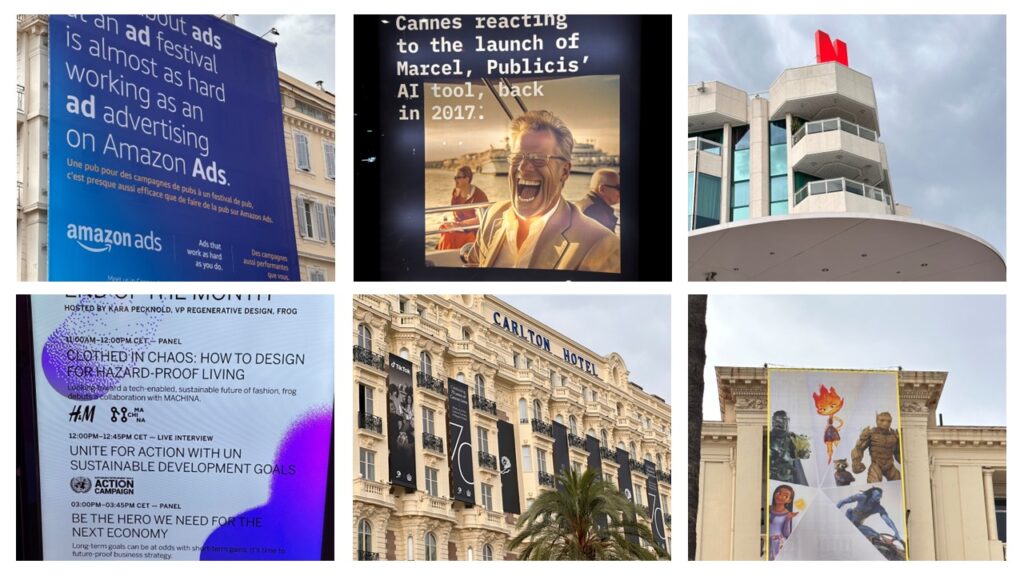 That said, taking a step back, two themes stand out for me at the conference, and I expect them to last, forcing Cannes Lions to truly rediscover its roots as a festival of creativity beyond the auto-congratulation of the best agencies, ideas, campaigns, and ad tech technologies:
Generative AI revolutionizes marketing creativity. Generative AI was by very far the number one buzzword and dominated most conversations. My colleague Jay Pattisall summarized Forrester's perspective here a couple of weeks ago. Generative AI will enhance human intuition with machine intelligence, amplify creators' work, and add scale and speed to creative quality. Is this new? Not really. Publicis funnily reminded everyone (see pic) that it did not attend Cannes Lions to finance the launch of its Marcel AI-powered tool back in 2017. I wrote a report back in 2019 explaining that AI is a new kind of creative partner. The difference is that, since then, technology innovation has drastically accelerated and that nowadays most marketers realize the potential of many new use cases. As always, the challenge is about data and data governance. And the question is not so much about whether AI will kill jobs by automating tasks or creating new ones but about the fact that most of us will have to learn to work with new AI tools. Also, one of the often-forgotten questions is the ownership of IP rights. I sat down yesterday with the head of digital innovation at one of the most valued global brands (a luxury player), and the top question about generative AI is the extent to which it will disrupt ownership of creative content and the work of artistic directors.
Sustainability demands the hybridization of creativity and science. There were lots of "talks" on sustainability, and the industry is starting to promote practical solutions to address its own carbon emissions. That's a first step in the right direction. As I explained in my blog post Toward A Greener Marketing Ecosystem, however, the direct environmental impact of advertising is just the tip of the iceberg. The elephant in the room is the indirect impact (think product, packaging, and distribution) of marketing's contribution to sales and the role that advertising and marketing play in shaping the collective culture and imagination. It's the CMO's responsibility to avoid reinforcing existing stereotypes about consumerism and to invent a positive way to highlight sustainable lifestyles. The challenge for CMOs here is not so much about creating new purpose-led campaigns but to invent new disruptive sustainable offerings and products. It often requires mixing R&D, technology innovation, and science with marketing. I recently had the honor to interview Andrea Alvares, the former CMO at Natura (the Brazilian cosmetic company perceived by many experts as a sustainable leader), and she was not just in charge of branding and sustainability but also of innovation, working extremely closely with R&D teams. It is about aligning purpose with your business model. This was one of the key themes of the discussion I had the honor to moderate with Kara Pecknold, head of regenerative design at frog, and Clément Chenut, circular economy lead at Capgemini. Few firms are good at executing this today because it requires two things:

A clear alignment between the CEO and the CMO on the impact of sustainability on corporate strategy and business models. It is about demonstrating that a firm can be both profitable and sustainable, and more often than not, it can be a challenge, especially given the context of purpose-washing and the fact that environmental, social, and governance (ESG) can be a very polarized theme in some countries.
An experienced CMO who truly acts as an emboldened business leader. To create value and win the trust of their CEO and other C-suite partners, CMOs must deliver on three fronts: 1) Elevate across the full marketing mix; 2) evolve with the ever-changing media and tech landscape; and 3) embolden the marketing function to be indispensable to the business. This is difficult, and as my colleague Mike Proulx recently explained in Forrester's What It Means podcast, it requires untucking the CMO.
Let's Connect
If your company has expertise to share on these topics, feel free to submit a briefing request. And if you're a Forrester client and would like to ask me a question, you can set up a conversation with me.