Understand Today's Investors In Metro China, Hong Kong, And Singapore
Why You Need A New Segmentation Approach To Understand Today's Investors
Wealth management firms commonly segment their clients by investable assets. But this is not enough to help firms decide on new products and services or optimize customer engagement models. Self-directedness is a crucial dimension that reliably predicts many investor attitudes and behaviors (see Figure 1). As fintech startups flood the market with new, digital-first offerings, wealth and investment management firms need to understand how best to serve the four primary investor segments:
Delegators — hand off most investment decisions to experts such as financial advisors and, increasingly, robo-advisors.
Validators — gather their own information, make their own decisions, and seek advice and validation from experts.
Self-directed investors — have the confidence to choose their own investments. They gather their own information and make investment decisions without the help of others.
Disengaged investors — do not conduct investment research or rely on advice from financial professionals.
Figure 1: The Four Segments Have Distinctly Different Attitudes Toward Investing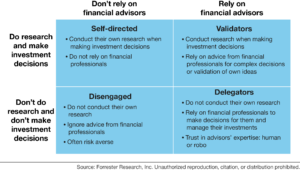 What You Should Know About Investors in Mainland China, Hong Kong, and Singapore
The wealth management industry in Asia has substantial growth potential. While assets under management (AUM) in the region have grown rapidly in recent years, only 15% to 20% of these are managed assets. We found that:
Three out of four online adults in Hong Kong hold an investment account, and most of them are validators, which indicates strong demand for both traditional and digital-only investment management services.
Most Singaporean customers have investment accounts, but many of them don't actively invest and treat their balances as savings, which suggests that investment management firms haven't fully tapped the market potential or engaged clients effectively.
About half of metro-area mainland Chinese online adults have investment accounts, the majority of whom are digitally savvy, willing to pay for financial advice, and interested in automated investment management services like robo-advisors.
Join Our Webinar To Learn How To Leverage Investor Segmentation For Growth
We are pleased to announce that we will be hosting a special webinar on March 24, 2021, where we will talk about our consolidated findings across four markets, including the US, mainland China, Hong Kong, and Singapore. Most importantly, we plan to offer deep insights about the distinct preferences, needs, and behaviors found among the four investor personas that will help you to improve your client acquisition, engagement, growth, and retention strategies. For more information about the event, click here.
We look forward to seeing you at our webinar on March 24, 2021!
Speakers:
Tom Mouhsian, Principal Analyst (Singapore) | Bio
Vijay Raghavan, Senior Analyst (New York) | Bio
Meng Liu, Analyst (Beijing) | Bio
Webinar Details:
Date & time: Wednesday, March 24, 2021 | 10:00 AM (SGT, HKT, CST)
Duration: 60 minutes
Related Videos:
Watch Tom Mouhsian talk about what you can expect to learn from our webinar:
Watch Meng Liu talk about some of the findings about Chinese investors that will be featured in more detail during our webinar:
Related Research: