US Consumer Pandemic Recovery Outlook, August 2021: Ongoing Uncertainties Caution Consumers
While US consumers enter the fall season with the return of live sports and in-school instruction signaling normalcy for the coming months, consumer stress lingers. As threats of coronavirus variants stifle back-to-office plans, President Biden calls for employers to mandate vaccinations, and certain states push back against in-school and in-store mask mandates, the risks of the Great Resignation, labor shortages, supply chain issues, and inflation that dominate the news drive consumer fear and uncertainty.
At Forrester, we've been keeping an ear to the ground by tracking consumer attitudes and behaviors constantly — here, we compare recent data from Forrester's August 2021 Consumer Energy Index And Retail Pulse Survey with our pulse of data from July 2021 to analyze how consumers' pandemic recovery outlook evolved as people prepared for the fall. By the end of August, consumers were:
Still highly concerned about the threat of coronavirus variants and the steady rise in cases despite vaccination rates. While consumers embraced outdoor social life in the warm summer season, the impending indoor winter months triggered a new wave of uncertainty. In August, 60% of US online adults said they were afraid of the rise of coronavirus variants, up from the 52% who agreed in July.
Less confident in their finances and their ability to weather the economic impact of the crisis. In July, 41% of US online consumers felt financially prepared to handle the economic fallout of the pandemic; only 36% said the same in August. Consumers have been keenly aware of rising prices, and although the child tax credit helped ease the end of government stimulus packages as back-to-school shopping fueled an economic bump, consumers are increasingly price sensitive, with 36% of US online consumers saying they pay more attention to price when choosing a brand as a result of the pandemic.
Frustrated by the ongoing churn of uncertainty. Chronic caution fatigue is catching up with US consumers. In July 2021, 55% of US online consumers reported that COVID-19 would have a long-term, negative impact on their quality of life, and in August, the number jumped to 61%. Canceled or postponed end-of-summer trips and foiled back-to-office plans have taken an emotional toll on consumers and doused their hopes for a rapid return to "normal." In June, an optimistic 65% of parents said that their child's school district was prepared to handle back-to-school season; that optimism shrank to 48% in August. Given ongoing fatigue and anxiety in the face of uncertainty, consumers are looking for trusted brands to provide a sense of stability and reliability.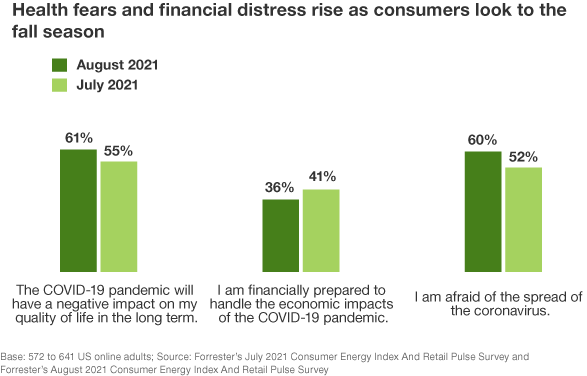 About Forrester's consumer pandemic recovery outlook series
Any company's first step in accelerating through the COVID-19 pandemic and building a profitable, sustainable future is to establish a laser-sharp focus on consumers — how their attitudes, expectations, and behaviors are changing and why. Our consumer pandemic recovery outlook blog series provides snapshots of US consumers' current mindset and evaluates which behaviors they are likely to embrace — and pull away from — over the next 12 to 18 months. Follow my blog to find Forrester's latest thinking, or read my latest research. As always, I look forward to discussing your questions and ideas via a Forrester inquiry.