Corporate Climate Action Tech Heats Up
The impacts of climate change are already affecting people and businesses today. Even if we meet the goals of the Paris Agreement, the world will still face unprecedented changes — from more extreme weather to rising sea levels to biodiversity loss — forcing us to adjust to the physical effects of climate change and embrace environmental sustainability to reverse it. Firms are coming to terms with these impacts. Just in 2020, we learned that:
Consumers increasingly believe that the private sector has a responsibility to act. According to our data, "environmental protections and position on climate change" was the most important aspect of corporate social responsibility for UK, French, and Italian consumers last year. But even Americans, faced with the worst wildfire and hurricane season in recent history (during a pandemic!), are thinking about the climate more (35%, according to Forrester Analytics survey data), and empowered US consumers are demanding corporate environmental sustainability.
Governments are using pandemic recovery to accelerate green investment. World governments are incorporating green incentives in pandemic recovery packages to address mounting debt and an economic downturn. In Europe, the UK, France, and Germany have committed billions toward a green recovery as the EU plans for climate resilience and carbon neutrality by 2050. In September 2020, China committed to carbon neutrality by 2060. Japan, which originally committed to reducing carbon emissions by 80%, committed to carbon neutrality by 2050 in October 2020.
Corporations are committing to ambitious climate action plans. Challenged by changing consumer sentiment, employee activism, investor scrutiny, increasing operational risk, and growing competition, corporations are committing to ambitious climate action plans, including Amazon, Apple, AT&T, JPMorgan Chase, Microsoft, Walmart, and many more. These companies will reduce their greenhouse gas emissions and achieve carbon neutrality with investments in sustainability, decarbonization, carbon offsets, renewable energy procurement, efficiency improvements, virtual work expansion, and even removing CO2 from the atmosphere.
Develop Sustainability And Adaptation Strategies To Future-Proof Your Business
Climate action plans must protect organizations from the impacts of climate change and enable the global transition to a sustainable, low-carbon economy. These two strategies are equally important and complementary elements of your climate action plan, and they come in many forms. Adaptation is closely aligned with business continuity and resilience because it mitigates climate risks related to hazards and longer-term changes. Mitigation is a function of sustainability and presents enormous business opportunities to innovate. Our report, "Forrester Infographic: Optimize Your Response To The Climate Crisis," explains these complementary strategies, where they overlap, and how they reduce risk and create opportunity in an era of business transformation.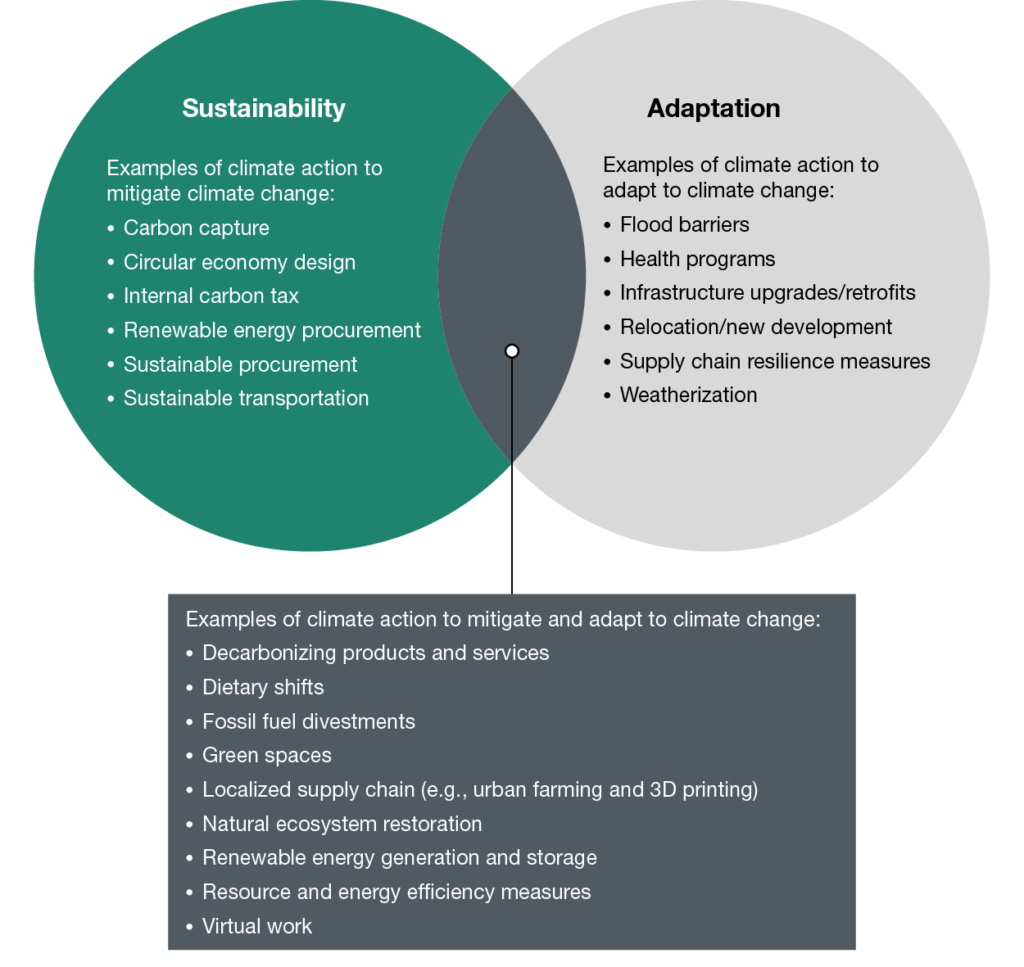 We recently published important research for those organizations ready to make a significant financial investment in technology solutions for climate action:
Please reach out to us via inquiry or briefing to talk about your sustainability, climate adaptation, or climate action journey. Our research will continue to dive into corporate sustainability strategies, technologies, trends, and best practices.