Digitalization In Industry — Observations From Hannover Messe 2019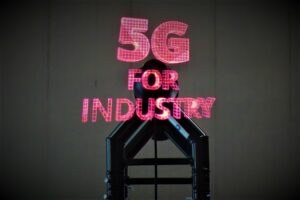 Digitalization in the consumer segment is no doubt the central theme. In the B2B segment, digitalization is still building — and from a relatively low base — yet the potential is enormous: The B2B segment is larger than the consumer segment on most accounts. Hannover Messe, the leading global trade fair for everything industrial, offers a great opportunity to feel the pulse of digital momentum in the industrial context.
Hannover Messe, which just ended, attracted over 200,000 attendees and more than 5,000 exhibitors. Countless discussions are held, thousands of technologies and implementations discussed, and opinions shared. Therefore, I cannot objectively represent the full spectrum of themes and trends at Hannover Messe. And still, I noticed a handful of interesting observations during my discussions with many vendors and industrial businesses:
Core industrial operations are shifting to the cloud. Over the last few years, cloud computing has made good progress to enter the business world. Now it has arrived at the core of industry operations. At Hannover Messe, Microsoft and the BMW Group launched an initiative to drive open industrial IoT development. Similarly, Volkswagen and Amazon Web Services (AWS) announced the development of the Volkswagen Industrial Cloud to combine data of all machines, plants, and systems from all the facilities of the Volkswagen Group. These developments mark a milestone, as some of the world's leading industrial players are shifting processes that define their competencies into the cloud environment.
The role of open partner networks and ecosystems for innovation is growing. A rising number of industry solutions comprises several partners. As a result, the agreement to and implementation of industry standards and security policies is critical to support automatization and cyberdefense initiatives. Moreover, contrary to many B2C players, all B2B vendors I spoke to see themselves in a data custodian role for their customers. Hence, governance models need to outline what machine or customer data should be kept inside a firm and which data sets can be shared. The launch of the Open Industry 4.0 Alliance, which is supported by SAP, during Hannover Messe is a good example for the growing role of open ecosystems in the industrial sector.
5G in the industrial sector seems near — and yet still remains so far. Like at Mobile World Congress (MWC), 5G was a hot topic at Hannover Messe. There is a big difference, however: Many 5G use cases for industry that were presented at Hannover Messe — such as industrial robotics — are seriously limited due to the early stage of the 5G standard definition status. At MWC, it was fine to get excited about demos of the first 5G-capable smartphones. The story concerned super-fast mobile broadband of several gigabytes per second. This is defined by 5G standard Release 15. Industrial 5G use cases usually depend on super-low latency of less than 5 milliseconds. This 5G capability will be defined in Release 16, which is set to be finalized by the end of 2019 at the earliest. Devices and network equipment will follow a year or so later. Hence, it's all well and good to explore and discuss the possibilities of 5G use cases in the industrial context that focus on super-fast broadband. But it's too early to get carried away in the hype regarding low latency scenarios. My upcoming report, "The CIO's Guide To 5G Connectivity And Strategy," will investigate the current 5G dynamics.
Digital transformation in the B2B context demands operational adjustments. Cultural transformational challenges all too often come up as the major stumbling blocks during digital transformation projects. AWS confirmed this in our discussion. It emphasized that digital transformation also implies an organizational transformation. AWS described this transformation process as similar to a "journey of self-discovery." As part of this journey, it is critical for traditional businesses to define their own culture before launching into a technology debate. AWS believes that technology evolution and organizational structures are closely intertwined. For instance, the rise of microservices and APIs requires traditional firms to undergo an organizational restructuring.
Overcoming legacy silo structures is a critical task that manufacturers must tackle. Digital twins are changing how manufacturers are integrating product design, production operations, and after-sales service. Many industrial firms have been slow to embrace the cloud and big data. At Hannover Messe, we could see many examples of how solutions such as Siemens' MindSphere or AWS's SageMaker open new opportunities for industrial firms to speed up their big data- and AI-driven innovation transformation efforts. This also means that industrial firms still need to tackle the bigger challenges of organizational and cultural transformation.
The migration to subscription offerings throws up new tasks for vendors. The subscription model implies that customers subscribe to get access to a product or a service for a certain time, a set usage volume, or business output. For vendors to ignore the subscription model can be risky for traditional businesses. Subscription-based startups focus on delivering the most value-creating aspects of customer pain points and desires — rather than just selling products or services as a one-off transaction. For traditional businesses, the shift to a subscription model causes headaches; revenues and costs will be accounted for over a longer timespan. Thus, there is a high likelihood for a revenue dip initially as revenues are spread out. Siemens is addressing this challenge by supporting its customers through special Siemens Financial Services offerings. My upcoming report, "The Subscription Business Model," will investigate this and additional aspects of the migration to the subscription business model.