Europese consumenten hechten steeds meer waarde aan duurzaamheid
Post van gastblogger Melissa Chaudet, senior onderzoeksmedewerker.
Het is geen geheim dat Europese consumenten zich steeds meer zorgen maken over de impact van hun consumptie op het milieu. Forrester heeft onlangs nieuw onderzoek uitgevoerd om een beeld te krijgen van de verwachtingen en houding van Europese consumenten ten aan zien van duurzaamheid. Dit waren de bevindingen:
Consumenten zoeken actief naar meer milieuvriendelijke opties. Meer dan de helft van Europese online volwassenen vinden het de moeite waard om meer te betalen voor duurzame en milieuvriendelijke producten. Europese consumenten zoeken in hun kooptraject actief naar opties, zoals recyclebare verpakking en milieuvriendelijke verzending. Merken moeten duurzaamheid daarom een integraal onderdeel van het koopproces maken. Lees meer over de emoties op basis waarvan klanten duurzame beslissingen nemen in deze blogpost.
Consumenten voegen niet altijd de daad bij het woord. Ons onderzoek identificeerde een verschil in de houding van consumenten ten opzichte van duurzaamheid en hun daadwerkelijke gedrag. Obstakels die duurzaam kopen in de weg staan, zoals prijs of gemak, beletten consumenten te kopen op de manier waarop ze dat het liefst zouden doen. Om dit verschil tussen wat consumenten willen en kunnen te verkleinen, moeten organisaties deze obstakels in kaart brengen en wegnemen. Lees meer over wat deze obstakels zijn in de Forrester-blog The Green Consumer Paradox.
Duurzaamheidsverwachtingen en -uitdagingen verschillen per land. De bereidheid van consumenten om iets te doen aan hun zorgen over het milieu, varieert in Europa van land tot land. Een belangrijk deel van de Britse online volwassenen vindt het niet erg om producten te kopen die niet milieuvriendelijk zijn, terwijl Italiaanse consumenten dat minder waarschijnlijk zouden doen. Er is geen 'one size fits all'-benadering. U moet consumentenonderzoek uitvoeren om de mate van betrokkenheid van uw klanten te bepalen, evenals factoren die hun duurzaamheidseisen aansturen. Lees de blog The New Green Consumer voor meer feiten over groene consumenten.
Consumenten geloven niet dat merken hun milieubeloftes nakomen. Europese consumenten vinden dat merken duurzaamheid moeten bevorderen, maar geloven niet dat ze dat doen. Uit onze data blijkt dat 69% wil dat bedrijven transparanter zijn over hoe zij hun duurzaamheidsdoelstellingen willen halen. Bedrijven moeten daarom transparantie in al hun activiteiten verweven, om het vertrouwen van belanghebbenden in hun milieubeloftes te versterken.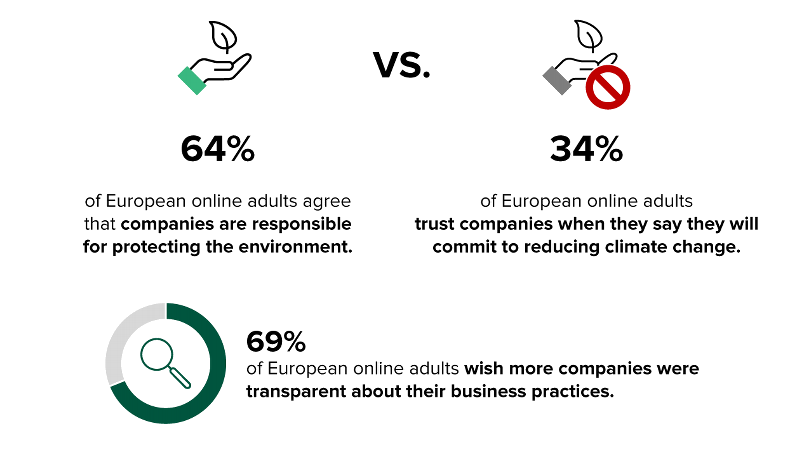 Related Forrester Content