Meet The New Analyst Covering Enterprise Transformation
Which Topics Are You Going To Cover At Forrester?
I am very excited to cover enterprise transformation, innovation, and strategy in my research at Forrester. My core interest is in the execution of change — how to orchestrate it across all dimensions of the enterprise and how to keep a strict focus on value creation along the way.
More specifically, my work targets addressing several execution-related problems:
Transformation: How to mature your enterprise with strategic focus

How to orchestrate change holistically across the entire organization to avoid chaos
How to remain closely focused on client value creation during your transformation
How to embrace a multispeed tech organization and make it effective

Innovation: How to innovate with purpose

How to establish an innovation program that's focused on value creation
How to select the right tools and procedures depending on your innovation objectives
How to build innovation-enabling technology during enterprise transformation

Strategy: How to reimagine your strategy with tech-enabled business models

How to tie transformation and innovation back to corporate strategy
How to reassess your strategic options as your enterprise matures
How Do You Define Enterprise Transformation?
We use the term enterprise transformation to emphasize that all aspects of an organization need to change in order to mature your delivery model without creating confusion and inefficient frictions. Technical maturity alone won't do the trick. Other dimensions need to complement technology, such as delivery procedures, data, decision-making structures, and vendor relationships. And such change needs to move in sync to be effective.
To illustrate this, we have come up with five archetypical stages of enterprise maturity. Each company will find itself somewhere on this spectrum. How to achieve incremental improvements along this journey with clear strategic alignment is at the core of my research on enterprise transformation.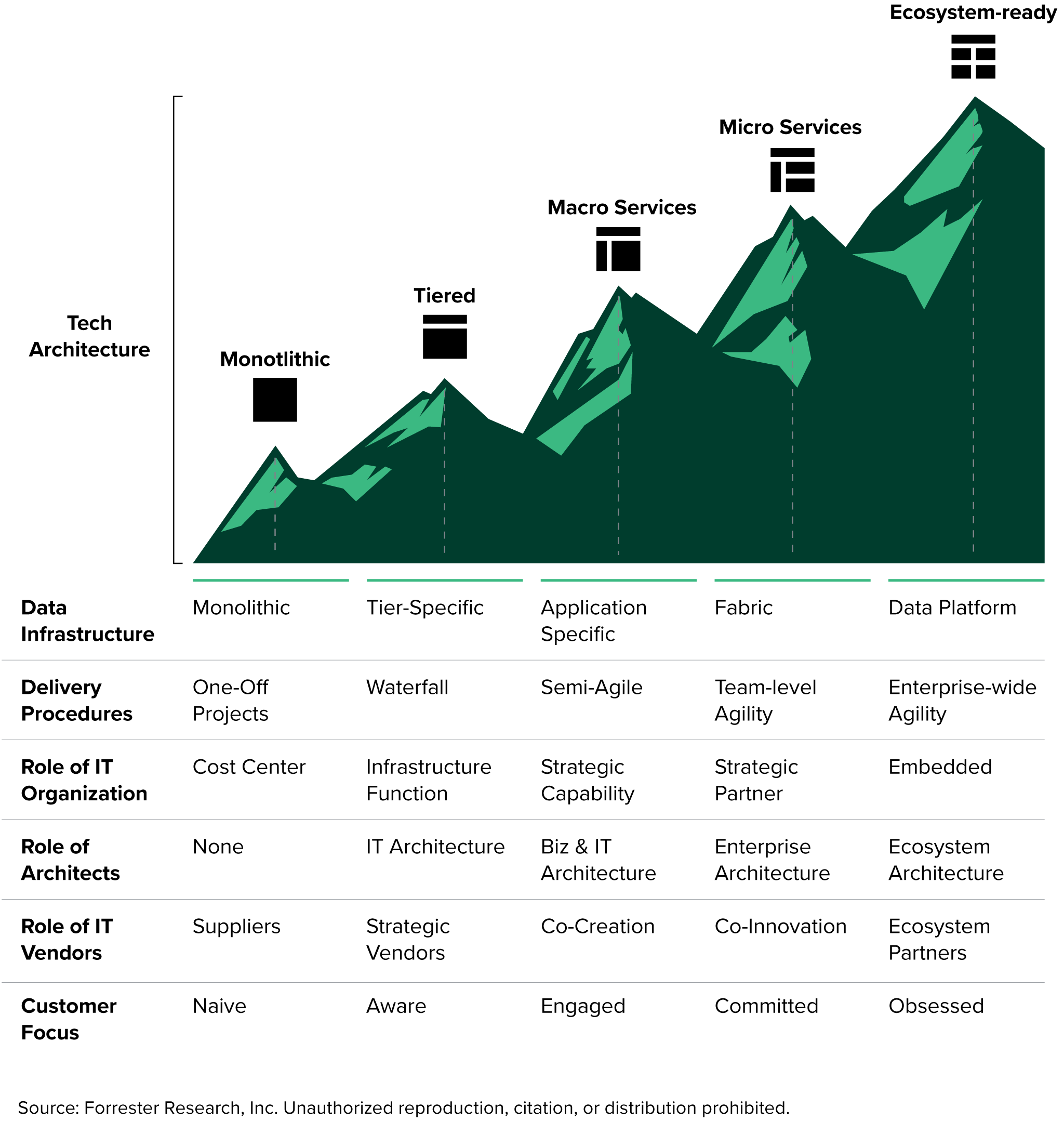 How Did You Get Interested In Enterprise Transformation?
I've spent about six years of my career working in corporate strategy in the finance industry. During my time in Asia, I witnessed Alibaba building Ant Financial, Ping An creating an entire financial marketplace, and DBS completely transforming its technology and culture toward digital. Ultimately, it became obvious to me that the rules of strategy have changed fundamentally and that you can't legitimately articulate a corporate strategy without a deep knowledge of technology. That's when I decided to pivot into a digital strategy and transformation role. I am looking forward to combining both my strategy and tech execution background in my research going forward.
What Are The Most Interesting Trends That You Are Tracking Right Now?
Definitely ecosystems. I'm fascinated how companies redefine their relationships with competition to create completely new value propositions for existing and new customers and, additionally, how industry boundaries are being challenged to cover a much larger share of client journeys. I am very impressed with the thought leadership that Forrester has already established in this space, especially with the future fit technology model. I am excited to contribute to this subject in the context of enterprise transformation.
Now What: What Actions Can Readers Take Right Now?
Schedule an inquiry, read my research, or follow me on LinkedIn to learn about upcoming webinars and events that I'll be participating in.
I am looking forward to interacting with you!