One of the keys to achieving customer obsession is steadfast alignment and shared accountability for business outcomes. Technology leaders have to build relationships across the organization and understand business goals; architecture and development teams must deliver the innovative experiences promised by the business; and security teams must ensure that all of the experiences are secure and don't put customers or the brand at risk.
Regardless of where you sit in your company's IT organization, you can play a vital role in powering growth. Forrester Decisions provides everything that your technology organization needs to make bold decisions that power innovation and drive growth.
For Technology Executives
Despite unprecedented digital acceleration, you're charged with reversing IT debt while investing in new technologies and capabilities that improve customer and employee experiences and boost revenue. You've been given a unique opportunity to lead through technology, drive strategic innovation, and be an agent of change.
Explore these resources:
For Technology Architects And Operations Leaders
Your team does much more than support the back end of the business. It's up to you to build an architecture practice that drives change, powers growth, and enables future-state technology capabilities that ultimately optimize value streams.
Explore these resources:
For Security And Risk Leaders
Attack surfaces have expanded in recent years, so security continues to emerge as a core challenge for organizations. You must be one step ahead of emerging threats to ensure a strong security posture that offers continuous protection to your business, employees, and customers.
Explore these resources:
Companies that adopt a future-fit technology approach — which enables great experiences for customers and employees — grow up to 2.8 times faster than their peers.
Forrester Solutions For Technology Leaders
Forrester is a different kind of partner. Think of us as your unfair advantage — your superpower — always on your side and by your side through the many faces of change. We supercharge your teams and accelerate your ideas, positioning you to overcome today's challenges and meet tomorrow's goals.
With Forrester Decisions technology services, we empower your IT organization to win customers, align the business to technology, and accelerate business outcomes. Our services are built on a connected body of research and backed by expert guidance that enables leaders and teams to maximize their impact.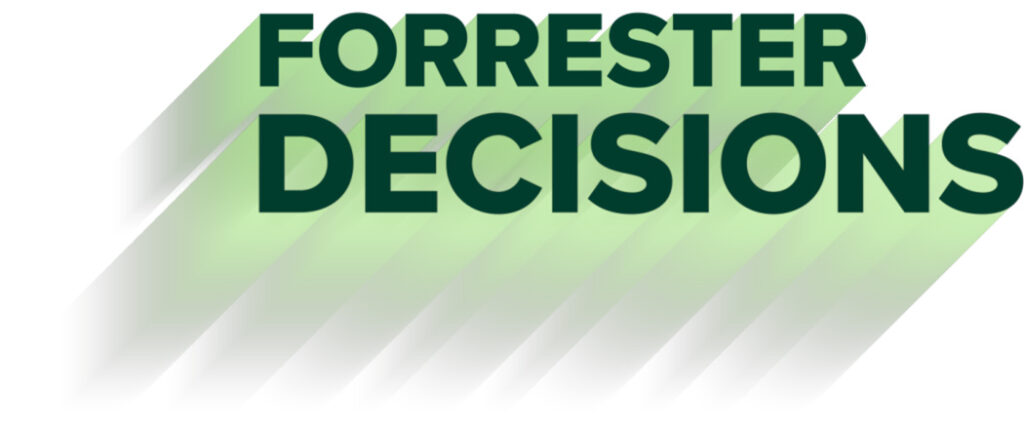 Insights For Technology Leaders
Stay ahead of the curve. Attend one of our upcoming tech events.
Forrester's technology events connect practitioners and professionals with analysts and industry leaders. Explore ways to supercharge business outcomes with creative and innovative technology adoption. You'll find insights and expert advice to help you modernize your strategy, tech stack, and organization, preparing you to innovate in the face of disruption, break away from digital sameness, and drive meaningful business value.
Meet A Few Of Our Technology Analysts
How can we help?
Fill out the form, and we will contact you.
Thanks, we will be in touch soon.
Ready to learn more now? Give us a call:
Americas: +1 615.395.3401
EMEA: +44 (0) 2073 237741
Asia Pacific: +65 6426 7060