B2B CMOs: What's Your Role In The Employee Value Proposition?
The "great resignation" of 2021 saw many companies step up their employer branding to retain coveted employees and woo talent. When economic conditions shifted in 2022 and layoffs hit tech and other sectors in a dominolike fashion, we saw some employers pivot to attitudes that reflected the sentiment, "You're lucky to be working here." As we round out 2023, the threat of a recession has weakened, and unemployment, although rising slightly, remains relatively low, giving employers with strong employee value propositions a heightened ability to attract and retain top talent.
Doug Conant, former CEO of the Campbell Soup Company said, "To win in the marketplace, you must first win in the workplace." Winning in the workplace is a concerted effort involving the entire organization and championed at the C-level. B2B CMOs must play a key role in formulating, articulating, and communicating the employee value proposition (EVP) in partnership with other C-level stakeholders including the chief people officer and the CEO.
CMOs Are Absent From EVP Development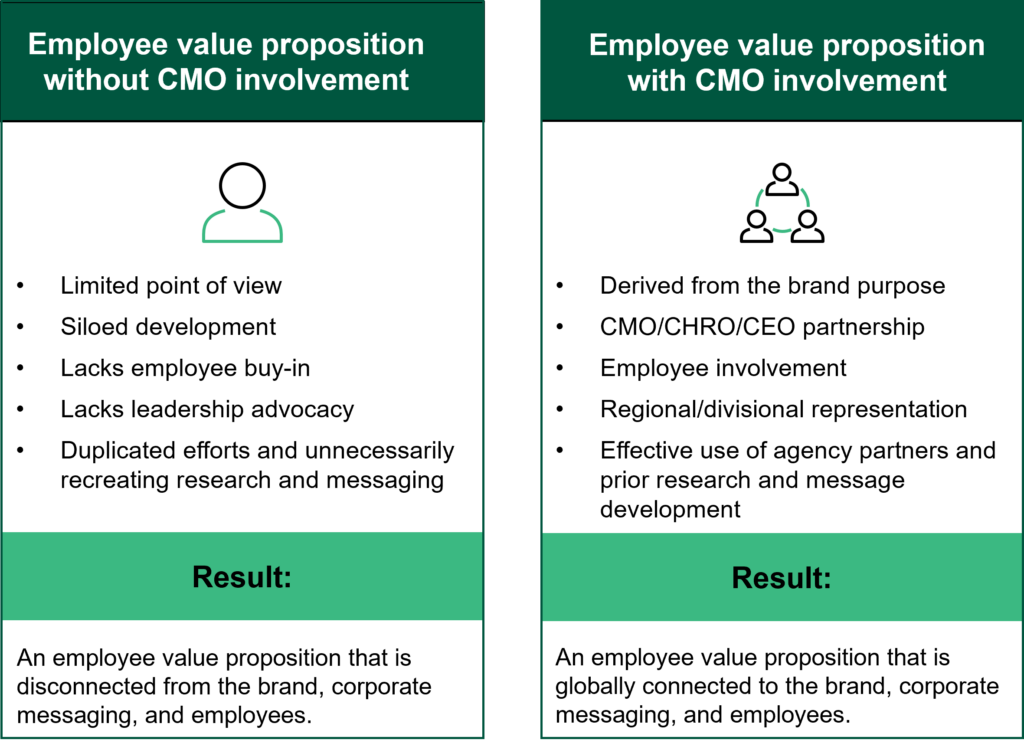 Too often, CMOs are absent from the EVP process because it doesn't focus on buyers and customers. Forrester's 2023 B2B Brand And Communications Survey found that, although 45% of marketing leaders agree that their organization has a documented and articulated EVP, only 25% agree that marketing has responsibility for crafting, managing, and governing the EVP. CMOs who don't secure their involvement in the EVP gamble on messaging that may be diluted, misaligned, and misrepresentative of corporate values, culture, and brand.
Why The CMO Plays An Important Role In Crafting And Activating The EVP
The EVP encapsulates the why, what, and how a company provides value to its employees. The CMO's role in formulating the EVP is unique, as they are the linchpin for ensuring the connection between the brand promise, the corporate value proposition, and how these ideals translate into value for employees.
How CMOs Should Unlock The Potential Of The EVP
Identify the stage of the EVP in its lifecycle. Does your company have an EVP? Does it align with the corporate brand? Is the company EVP actively reinforced? Identify where you are to determine the work to be done.
Create a shared responsibility model for EVP development. Ensuring that key stakeholders understand where they are accountable streamlines work, eliminates waste and duplicate effort, and helps to achieve the best outcomes.
Provide flexibility to adapt for cultural and geographic differences. As we live in a globally connected, diverse world, your EVP should be globally consistent for all operating geographies and cultures. Be mindful of all employee audiences, including those in different regions with different cultural values.
Leverage assets and expertise that already exists. Most marketing and brand teams have well-established relationships with agencies that have developed corporate messaging. This work can be applied to the EVP development.
Drive the EVP throughout the organization. The EVP is more than a messaging statement; it is an expression of value and culture that must be embraced, cultivated, and reflected by leaders for employees to have an intentional and authentic experience.
Forrester clients can read the full report, CMOs Must Take A Leading Role In The Employee Value Proposition. To have a deeper discussion, schedule a guidance call with Principal Analysts Karen Tran or David Parry.