By 2026, The Global Market For OMS Software Will Nearly Double To Reach $1.9 Billion
Order management system (OMS) software helps digital businesses deliver on four core capabilities: enterprise-level inventory visibility, distributed order management, customer service, and store fulfillment. In the next five years, we forecast that the global market for OMS software will grow from $1 billion in 2021 to $1.9 billion in 2026. That's a five-year compound annual growth rate (CAGR) of 12.3% (see the figure below).
Why Will The OMS Market Grow?
Order management has a huge impact on customer experience — even though it's not on the "experience" side of the modern commerce ecosystem. Business investments to meet soaring customer expectations for excellent experiences are driving the OMS market growth. Consumers' expectations require near-real-time data (such as inventory availability) in the path to purchase.
The retail and wholesale industries currently account for nearly 70% of the total spending on OMS solutions. The accelerating growth of e-commerce across the globe (in the US, Europe, Asia Pacific, and Latin America) is driving the demand for OMS solutions in the retail and wholesale industries.
The demand for OMS solutions in the manufacturing industry is increasing as more brands invest in direct-to-consumer channels to maximize the value from direct customer engagement via owned brand touchpoints.
Software-as-service delivery of OMS systems makes them more accessible, affordable, and adoptable for digital businesses. They allow digital businesses to focus on core competencies, rather than taking responsibility for customizing the solution and keeping it current with accelerating customer demands.
Led by my colleague, Emily Pfeiffer, Forrester has published research on order management systems for the past several years. Our Now Tech: Omnichannel Order Management Systems, Q1 2021 report helps our clients review a diverse set of OMS vendors that vary by size, target market, geography, and vertical market. In The Forrester Wave™: Order Management Systems, Q2 2021, we evaluated seven key OMS vendors across 38 criteria.
Our recently published forecast on the OMS software global market complements our existing research on OMSes. Our report provides the OMS market size and growth forecast by industry, geography, company size, and solution deployment type. Read our full OMS forecast report, 2022 Order Management System Market Forecast, Global, to see our complete five-year forecast with details around the market drivers that are causing this growth.
Want to talk to us about the growing OMS market — and/or your company's specific needs for OMSes given your business objectives? Schedule an inquiry with us!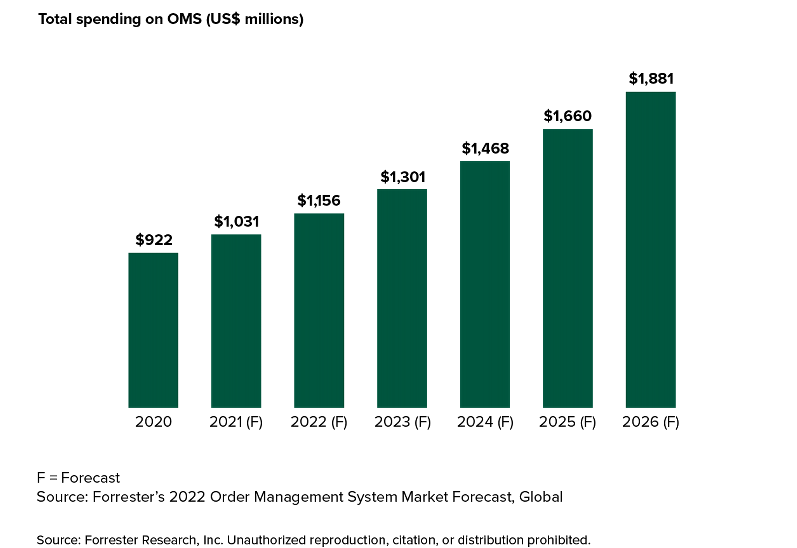 Related Forrester Content