Power Your Digital Business With The Right Platforms And Partners
Are you a digital leader responsible for selecting, managing, and scaling your organization's customer-facing tech? If you answered yes, the Power Your Business With Platforms And Partners priority within the Forrester Decisions for Digital Business & Strategy service is for you!
This new research service helps digital leaders across industries — such as financial services, healthcare, and retail — create and deliver businesswide digital strategies. Digital leaders can tap curated research and guiding tools to help them plan for and pursue their most pressing digital priorities.
As digital leaders seek to become adaptive and resilient in a tumultuous market, they must strategically select and scale their platforms (software) and partners (vendors). The Power Your Business With Platforms And Partners priority research helps digital leaders evolve their tech evaluation, selection, and evolution practices by:
Being ecosystem-oriented.

Think big-picture and long-term about the complete ecosystem. Foster collaboration across teams with areas of ownership within the stack.
Embracing cloud/SaaS.

Most

customer-facing tech should be SaaS when possible and at least cloud-hosted, with limited exceptions. Sensitive information (PII, health, financial) may require more control, but many services can still move out to the cloud and closer to the customer. B2C commerce should be SaaS whenever possible. This fosters agility.
Thinking "function first."

Start with the business problem to solve and work toward identifying the tech function that will solve it. Find the tech categories that offer the function and evaluate them against specialty (just the function) solutions to find the source based on the "business problem" use case. (Don't just buy an OMS because it seems like you need one.)
Evaluating standard and custom needs.

Gain realistic expectations for needs that are standard (or commonly available out of the box) and can be configured, as opposed to truly unique requirements that necessitate customization.
Prioritizing internal practitioners.

Nontechnical practitioners run the day-to-day business, while the increasingly modular tech stack requires them to log in to more systems, use more varied interfaces, and do more repetitive work than ever before. Prioritize their experience to ensure unified, streamlined, and highly usable interfaces that enable them to work more efficiently and happily.
Orchestrating the experience.

Marry the front-end/experience layer with the back-end/orchestration layer to create a cohesive brand experience that successfully sets, manages, and meets customer expectations.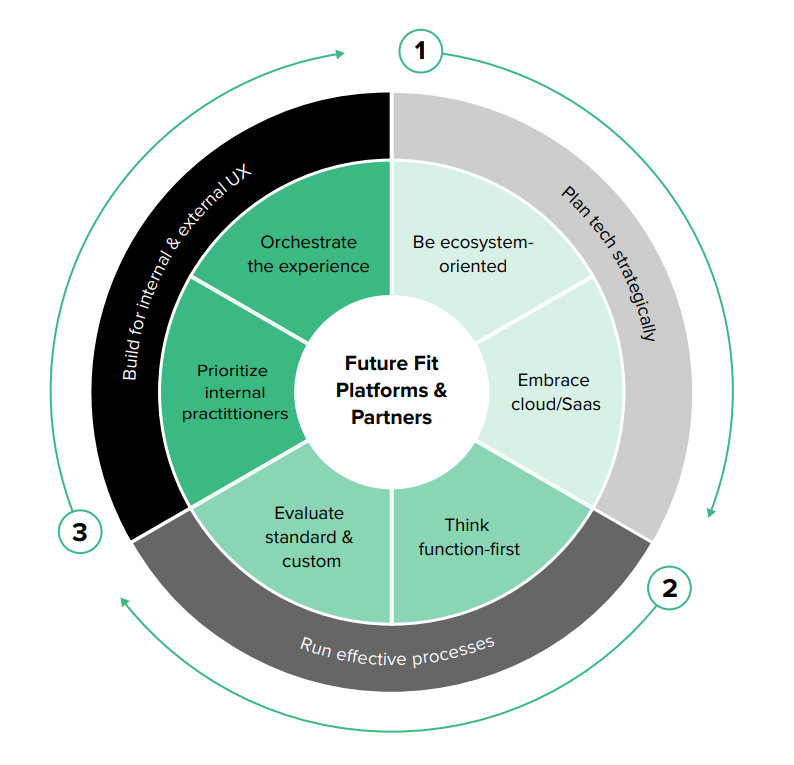 Elevate Your Use Of Platforms And Partners
We interviewed your peers, analyzed qualitative and quantitative data, and structured our findings in a collection of research and tools to help you define, apply, and accelerate modern platform and partner management.
Define.

This collection of research helps digital teams understand key trends, build a business case, and create a path forward. It defines the big picture of commerce and customer-facing technology, whether your industry focus is retail, banking, insurance, wealth management, or healthcare.
Apply.

This collection focuses on the strategies and relationships that support your future fit tech. Here you will find best practices along with frameworks and methodologies around which to structure your strategy. To dig deeper on content in this phase, use our Now Tech and Landscape reports that define technology markets and lay out the significant vendors in each.
Accelerate.

This research includes the tools, templates, and best practices to help you implement and accelerate your strategy. Use this research to compare your digital budget against our benchmarks, build platform partnerships strategically, and arm yourself for inevitable digital operations challenges. When it's time for a new vendor evaluation, you can access our bank of Forrester Wave™ reports in this collection for a deep evaluation of solutions in each market.
As a digital leader, make sure to check out all the exciting research that is part of the Digital Business & Strategy service. If you are not yet able to access this rich research, reach out to your Forrester account manager for next steps! Not yet a Forrester client? Contact us to start the conversation.
Related Forrester Content