European Customer Experience Index, 2020: How Banks And Insurers Can Connect CX With Business Impact
Our research shows that customer experience (CX) leaders grow revenue faster than CX laggards, cut costs, reduce risk, and can charge more for their products. Yet most of the world's largest financial services (FS) businesses cannot clearly answer the questions: "How much is CX improvement worth in annual profit?" or "How much of the annual profit comes from CX improvement?"
When it comes to important business metrics, leaders in the FS industry are used to tracking "the money story" (return on equity, net profit, and shareholder value) but don't always know how customer experience and customer engagement — or the "customer story" — affect financial performance.
Particularly in times of reduced profits and with firms looking for cost savings due to the global pandemic, leaders in banking and insurance will have to credibly connect the customer story to the money story. Forrester's Customer Experience Index (CX Index™) can help financial services brands connect customer and financial performance metrics. Forrester's Customer Experience Index methodology measures how much the ease, effectiveness, and emotional experiences of customers strengthen their loyalty and ultimately drive business growth (not just in terms of advocacy but also customer retention and enrichment).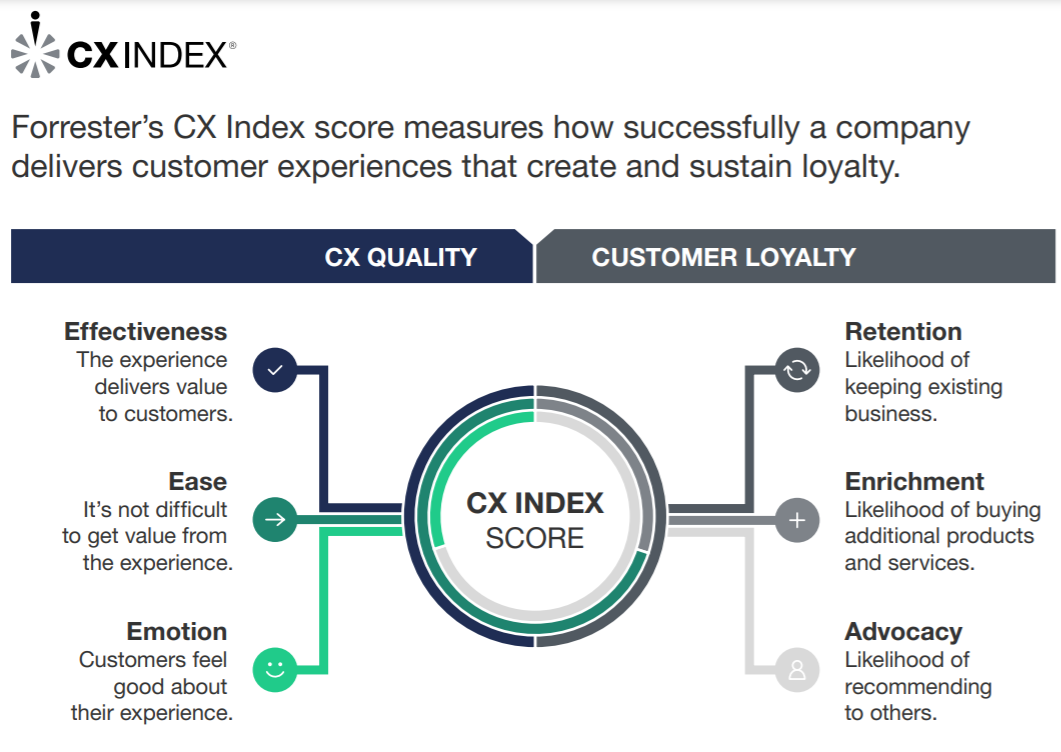 Forrester's European Customer Experience Index, 2020 results are based on a survey of over 12,000 adult customers of 28 banking brands and 29 auto and home insurance brands across the UK, France, Italy, and Spain. The CX Index scores are a measure of customers' perceptions on the quality of experiences they have with a company (CX Index scores range from 0–100 and are categorized as very poor, poor, OK, good, and excellent based on the normal distribution of scores).
This year, the CX Index survey was fielded at the height of the COVID-19 pandemic in each country. This provided us a unique opportunity to examine how the pandemic impacted customers' perceptions (the full reports have more details of our findings).
Key highlights from the reports include:
European mutuals and direct banks outperform incumbents, raising customers' expectations. Monzo and First Direct are the first banking brands in Europe to achieve CX Index scores in the excellent category. Despite this performance, we still see large divides separating top-scoring banking brands from the rest of the pack within each market. Top-scoring mutuals and direct banks such as Monzo and ING will continue to raise customers' expectations of their banking experiences. Close competition in the middle of the pack means small improvements in CX quality among lower-scoring brands can have a large impact on how their CX quality ranks relative to competitors — but these brands must prioritize CX or risk being left behind.
Overall, European auto and home insurers' CX is mediocre and undifferentiated. Most European insurers are delivering mediocre, undifferentiated experiences, with CX Index scores tightly clustered within the OK category. Unlike the banking brands, none of the insurance brands' scores reached the excellent category, and only two (RSA and LV=, both in the UK) scored just within the good category. But in this context of clustered scores, small changes in CX quality can have a large impact on how a brand ranks relative to its competitors. Even the leading brands are vulnerable to leap-frogging, as the top-ranking brand in each country leads by only two points or less.
How an experience makes customers feel has a bigger influence on their loyalty to a brand than effectiveness or ease in every industry. The bottom line is that customer metrics matter to business.
But companies must measure the patterns of attribution and the weighted contribution between financial and customer-related measures to develop a better sense of how CX affects profit and, in reverse order, how profit is impacted by CX.
To see the rankings of all brands in the European CX Index, 2020, click here.
For much more detailed analysis of the European CX Index results — including every brand's score and the emotions that drive loyalty the most — check out our reports: "The European Banking Customer Experience Index, 2020" and "The European Auto And Home Insurers Customer Experience Index, 2020."
Related Forrester Content