How To Take Your Customer Value To A Massive New Level
As you know, Forrester is the market leader in customer experience (CX) analysis and guidance. Via our latest CIO-oriented report, we show you how the very strongest CX leaders dare to disrupt with technology-driven innovations (TDIs).
Most firms do not empower their CIOs to be their digital transformation leaders, let alone have them drive their innovation efforts. And sadly, most firms' innovations are simply incremental improvements to their existing products and values and/or "fast follower" responses to the digital disruptors that enter their market.
The better approach, which is being driven by the leading innovators, is to be the disruptor yourself, not waiting around until a net-new customer value is dropped into your market. Doing so creates lasting competitive advantage that translates into growth and future market leadership. Our latest survey, detailed in this report, shows that the leading tech-driven innovators outgrow their market 3–4 times faster than their industry average — a massive opportunity for you, if you can prioritize it and get it right.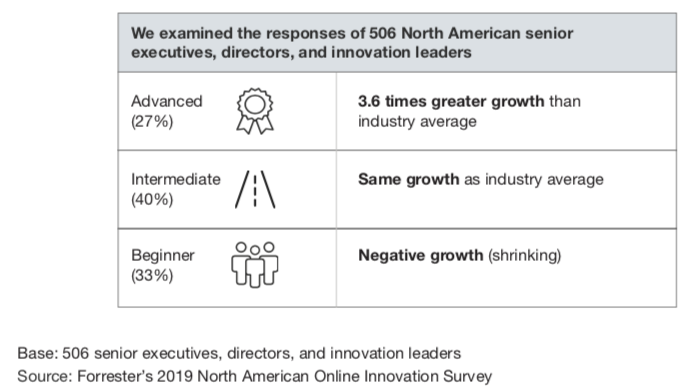 To drive these efforts successfully, you need to start first by aggregating CX insights to understand what your customers are ultimately trying to accomplish, what is holding them back, and what values above and beyond what you offer today that you can and should prioritize going forward. And to identify the right ideas to pursue, start by driving a companywide ideation program encouraging outside-in design thinking. This best-practice model often leads to incremental changes as well, which are important to pursue but are not the types of innovations that position you for future market leadership. So to properly prioritize innovation efforts that position you as the market disruptor, work to identify your customers' future and ultimate needs, not the incremental needs they often articulate.
Look also at what changes and hindrances are happening in the market that are either blocking (or, in the future, will crush) your customers' desires, then look at how the use of emerging technologies could overcome these barriers, accelerate customer-objective accomplishment, or create net-new values that your customers should focus on instead.
Start with asking "How will emerging technologies and trends change who my customer is, what they need, and how I or a competitor serves them?" This is how to arrive at disruptive, longer-term ideas. These are the types of moves possible using Forrester's tech-driven innovation methodology and that explain why these types of disruptive innovations are so key to ensuring future market leadership for your company.
Then, as you select the TDI ideas to pursue, ask your CIO to partner with an ecosystem of emerging tech experts to build and agilely iterate tech-driven innovations that address these identified emerging and future customer needs. Through each stage of disruptive solution iteration, engage with a subset of the targeted customers to determine the level of alignment and what to prioritize in the next iteration to drive up that alignment. And if it takes a lot of time to enrich and finalize the solution, make sure your team is open to the customers' needs evolving with market changes. In other words, don't craft your innovation in version one and hold tight on that initial idea. It is very common among the disruptive innovation leaders to find that forward-looking solutions often need to vary quite a bit before they prove alignment with the targeted customers' future needs. This is why you also don't want to craft an innovation business plan at the start of the iteration program — craft it once you have achieved its CX validation. For more on this topic, Bobby Cameron and I are crafting a forthcoming report on tech-driven innovation business case best practices that will publish this summer.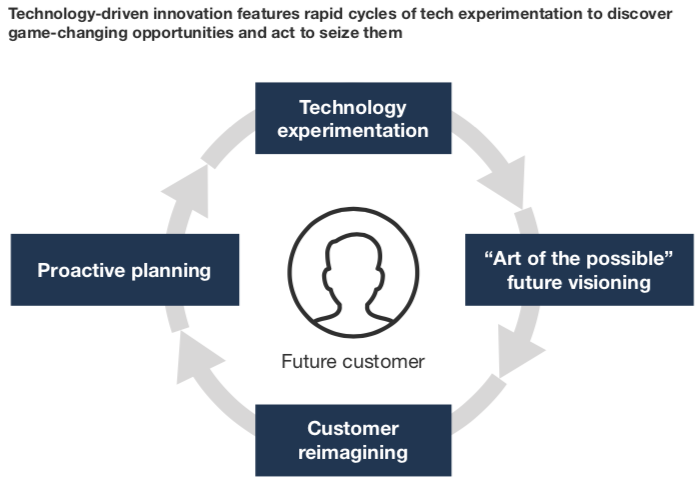 As you go through these iterations, you may find that the targeted customer-base initial volume, solution packaging, and pricing conclusions prove to be misaligned with your existing product and go-to-market teams and/or your current company business model. If your executive team can't get on board with adding this solution to your existing models, be prepared to allow one of the ecosystem partners you engaged to do so for you. We find this common among the top innovators, as it allows them to bring forth solutions that truly are disruptors to their current business. And once the solution has been proven successful and starts to expand to a broader market, you can bring it back into your own brand.
As noted in my report on innovations happening in the financial services market, this model of partnering with startups to bring disruptions to market first is very common. Be open to these types of partnerships so you can drive the new values that position you as the next-generation market leader.
These are the types of disruptions that should you focus on:
• Net-new business values. These give your customers great ability to achieve their ultimate goals, do so faster, and take their lives to the next level.
• Adjacent market disruptions. Extend the value of your company to a broader customer base by identifying net-new tech-driven values that leverage your company's assets and capabilities, empowered by emerging technologies that create new market-extending values.
• Moonshots. Address your customers' and the broader market's future needs, and overcome emerging market blockers and shortcomings that you can turn into opportunities and abundances.
Need help driving the above changes? We can help you, so please start with an inquiry request.
Thanks!