How Your DOP SIs Are Fighting "The War On Talent"
Companies in many industries are facing concerns with skill shortages, particularly since 4 million Americans quit their jobs in July 2021 alone. The war on talent is affecting the tech services industry, including large systems integrators (SIs) focused on enterprise resource planning (ERP) implementations like those in the SAP and Oracle ecosystems. For enterprises embarking on major digital operations platform (DOP) programs, if talent strategy isn't already an elevated criteria in your partner selection, it should be.
Customers are feeling these pain points. We completed two recent Forrester Wave™ evaluations on Oracle cloud apps implementation services and SAP implementation services, where we evaluated talent strategy. We spoke with 73 customer references across the 16 SIs evaluated. Their concerns reflected the by-product of those headlines: When asked, "If you could improve three things about your SI, what would they be?" one of the top responses was high staff turnover and their partner's ability to retain talent. The SIs are reacting, putting talent acquisition and retention at the center of their talent roadmap. Here is a glimpse at some of the ways SIs are fighting "the war on talent" and providing solutions to your talent questions:
SIs Are Responding To Key Client Concerns About Talent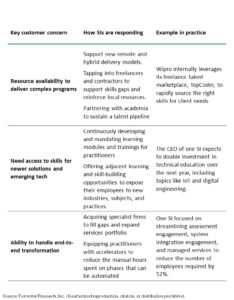 Leading SIs Go Beyond Technical Skills To Nurture High-Performing Teams
Some SIs are going above and beyond to retain talent and offer superb customer experience. A few shining examples worth highlighting:
Addressing burnout and employee wellness. It's no secret that high employee burnout from long hours impact the SI talent pool. The social isolation brought on from remote work is exacerbating the problem. Some SIs are focusing on ways to improve employee well-being, engagement, and fulfillment. Digital honors programs and merit increases are some ways SIs are improving employee motivation and engagement. In terms of employee well-being, programs to support childcare, subsidies to support remote work and well-being, and additional flexibility and time-off — like no meetings on Fridays! — stand out.
Hiring based on skills. Many companies are shifting to skills-based hiring, an approach that moves away from traditional job postings to focus instead on filling internal skill gaps. Some SIs are extending this to staffing projects as well, ultimately creating greater flexibility, agility, and faster staffing. In practice, they're building out an understanding of their skill repository; setting up a skill codification mechanism, level of expertise marking, and linkage of skill data to their training system; and developing an overall comprehensive employee skill record.
Focusing on diversifying their enterprise apps practices. Diverse teams lead to better customer outcomes, and SIs are beginning to put diversity, equity, and inclusion (DEI) and culture at the forefront of their hiring practices, alongside traditional requirements like skills and background. Soft skills and cultural fit rose in customer importance when discussing strengths and weaknesses of their partners. Diversity programs — like centers of excellence for diversity, women in technology, and university partnerships — are helping bring diversity to SIs' project teams. For the first time ever, Deloitte published its "2021 Diversity, Equity, and Inclusion (DEI) Transparency Report," which publicly released data on the composition of its workforce representation and talent lifecycle data such as recruitment, development and advancement, and retention strategies.
While services firms rely heavily on people, the focus on employee experience as a differentiator isn't unique to the industry. For tech execs concerned with both your services partners' talent strategies and your own — or looking for ways to minimize burnout and maximize employee motivation and engagement — see these reports from colleagues on retaining and attracting talent.
The People Leader's Guide To Burnout
Stop Burning Out Your Best People
Unpacking The Hype About The Great Resignation
This blog was cowritten with Senior Research Associate Kara Wilson.