New Forrester Forecast Shows That Global Tech Market Growth Will Slip To 3% In 2020 And 2021
Despite the excitement around leading-edge technologies such as AI and big data and the tremendous success of cloud vendors, Forrester's latest forecast for the global tech market shows growth slowing to around 3% in 2020 and 2021. Economic growth is slowing, especially in the US, China, the UK (thanks to Brexit), and other major economies as tariff and trade disputes, international political disruption, and deflationary pressure weigh down business investment and consumer confidence. These concerns will cause CIOs and their business partners to adopt a more cautious approach to their tech spending, resulting in a slowdown in business and government purchases of tech goods and services from a peak of 5% in 2018 to 3.9% in 2019, 2.8% in 2020, and 3.1% in 2021, in constant currency terms. Measured in US dollars, growth rates will have wider swings, from 5.7% in 2018 down to 1.7% in 2019, then up slightly to 2.6% in 2020 and 3.2% in 2021.
A handful of countries will have tech market growth that outpaces the global average. Countries with relatively stronger economies (such as the US, China, and India) will generally see better tech market growth. Those with weaker ones (like Italy, Japan, and the UK) will have less growth or declines. Only China, India, and Indonesia will see tech market growth of 5% or more in 2020. The US, Australia, Austria, Canada, Finland, Saudi Arabia, South Korea, and Sweden will experience tech market growth of 3% to 4%. At the regional level, North America and Asia will accordingly drive global tech market growth, and Western and Central Europe will see improved — but still weak — growth due to uncertainties arising from Brexit and trade impacts on France and Germany.
Thanks to cloud adoption, software growth will beat the tech market slowdown. Spending on tech consulting services and tech outsourcing services (where we count cloud infrastructure-as-a-service) will also grow faster than the overall tech market (see figure). But computer and communications equipment investment will be very weak, as will spending on voice and data telecommunications services.
Slowing global tech market growth means leaner new-project budgets and more focus on investments to cut business operating costs. Notwithstanding slowing economies, most firms and countries will have enough revenue growth in 2020 and 2021 to support some expansion in new project spending for business technologies that can help them win, serve, and retain customers. But with uncertainties about the business outlook, CIOs will shift new-project spending to back-office technologies that can help them cut costs.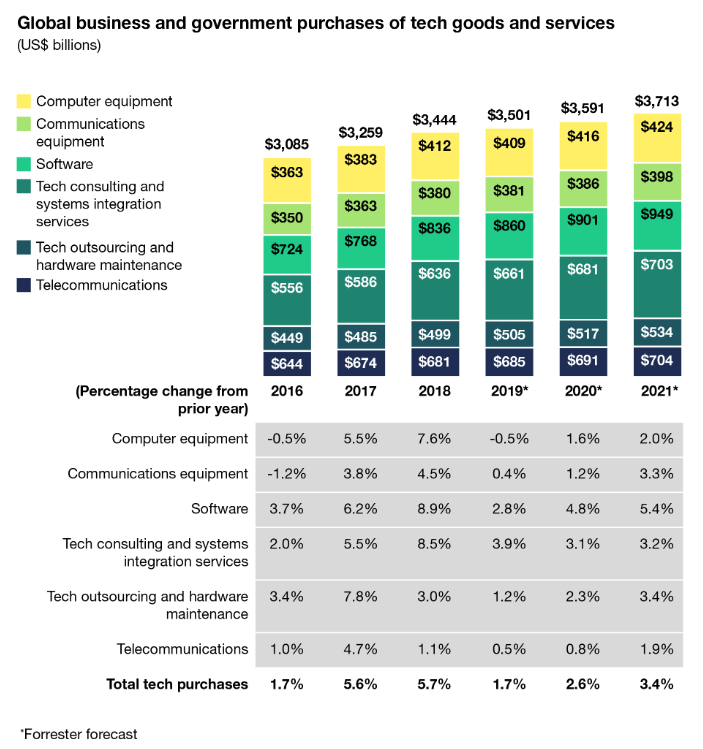 Forrester clients can access the full report, "Global Tech Market Outlook For 2020 To 2021: Global Markets Settle Into 3% Growth," for more information.
(Audrey Hecht helped draft this blog post.)