Oh, Snap: Data Deprecation Cuts Into Revenue
Don't say we didn't warn you. While reporting Snapchat's Q3 results yesterday, CEO Evan Spiegel conceded Apple's App Tracking Transparency (ATT) framework "disrupted" Snap's advertising business as he reported lower-than-expected earnings. The earnings miss drove sharp declines in Facebook's and Twitter's stocks as well.
ATT, which rolled out in April with iOS 14.5, requires users to opt in to sharing a device identifier via a new prompt: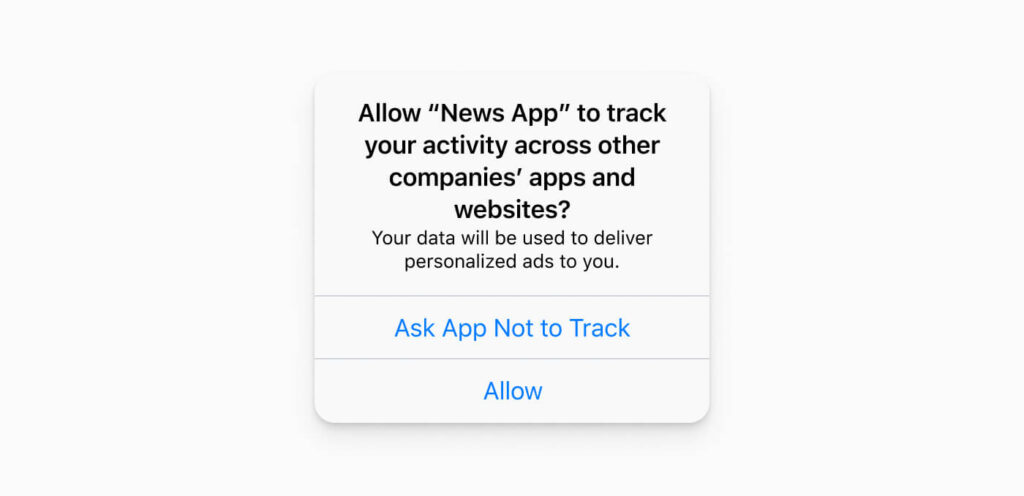 (Image source: OneSignal.com)
When a consumer selects "ask app not to track," the app cannot access that consumer's identifier for advertising (IDFA), a device ID that apps use for one-to-one ad targeting, retargeting, and measurement across apps. Some companies (most notably Facebook) have complained that ATT is self-serving and anticompetitive. But lost in these complaints are consumers and their wishes.
Consumers are increasingly privacy aware and frustrated by companies' previously unfettered data harvesting — Forrester's data shows that 59% of US online adults say that it's not OK for companies to track their activities across multiple devices to send them more relevant ads. And when Apple updates its iOS prompts to give consumers more choice, they take advantage — opt-in rates for location sharing plummeted after a new prompt asked users if they'd like to share their location with an app always, while using it, once, or never. Apps aren't doing themselves any favors, with very few taking the opportunity to sufficiently explain the value exchange to consumers.
While marketers may think they gained some breathing room when Google delayed its deadline to phase out third-party cookies, Snap's earnings serve as a harbinger. Advertisers must develop new strategies for audience targeting that reflect the reality of fewer identifiers, fewer connections between identity graphs, and a smaller addressable world. In the face of data deprecation, marketers and advertisers must:
Shift their approach to first- and zero-party data. The ecosystemwide reliance on "eavesdropping" via third-party cookie or device ID is breaking down as these identifiers deprecate. Instead, focus on how to build direct relationships with prospects and customers with an emphasis on delivering a value exchange or customer experience that benefits the end user. This deepens your customer understanding and serves as a foundation for more sustainable advertising and marketing activities.
Future-proof their strategy by addressing all four forces of data deprecation. Apple and Google dominate data deprecation discussions because of their massive footprints in the consumer tech ecosystem (and, in Google's case, the adtech ecosystem, too). But beyond browser and operating system restrictions, three additional forces are pushing data deprecation forward: privacy regulations, consumers' adoption of privacy-protecting tools and behaviors, and walled gardens limiting data sharing and data access. While Apple's data restrictions are the most pressing right now, don't lose sight of the bigger data deprecation picture when rebuilding strategies. This moment necessitates taking the long view on your data-driven marketing strategies with a focus on transparency and choice, a clear value exchange, and a respect for the depth of the relationship between yourself and your prospects and customers.
Mow an exit path out of social media's walled gardens. We've frequently advised that it's OK to break up with social media. With data deprecation hobbling social media platforms' in-app and out-of-app ad networks (e.g., Facebook's Audience Network, Snap Audience Network), now is the time to reevaluate your reliance on those walled gardens. While their large audience sizes are tempting for marketers, the reality is that their already-poor measurement capabilities are worse off with data deprecation. It's good to diversify, but be proactive in what you're looking for with those partners, rather than letting them dictate the terms.
Snap should serve as a warning that relying on previous ad targeting constructs will no longer stand. Even with 500 million monthly active users and proprietary ad networks, the foundational data needed to hypertarget ads to consumers is already eroding.