2024 Planning: Revenue Operations And Four B2B Must-Do's
B2B markets have always been complex, and they're only growing more so. In the face of disruptive technological as well as economic and social change, there's at least one B2B constant: Organizational growth hinges on the ability of companies to help customers realize value. Yet customer value creation too often gets undermined by ineffective and misaligned go-to-market execution. It's why we are convinced that B2B organizations require an effective revenue operations discipline to maximize both customer value and company performance.
The question that B2B organizations must answer heading into 2024 planning is not whether they require revenue operations. That ship has sailed (and the answer is a clear "Yes, they do"). The better question is how to focus revenue operations efforts to drive customer value. Forrester's Planning Guide 2024: Revenue Operations (client access only) details our revenue operations investment recommendations for the coming year. Before I preview a selection of our recommendations for 2024, it's worth characterizing the economic backdrop that we're facing.
Forrester's H1 2023 Macroeconomic Impact On B2B Sales Survey shows that 66% of B2B sales leaders agree that their organizations are experiencing medium to significant levels of revenue impact because of the current economic environment. Despite that, Forrester's Budget Planning Survey, 2023, shows that sales and marketing leaders expect increases in operations investments to be among the largest areas of budget growth. Simply put, investments in revenue operations are investments in growth.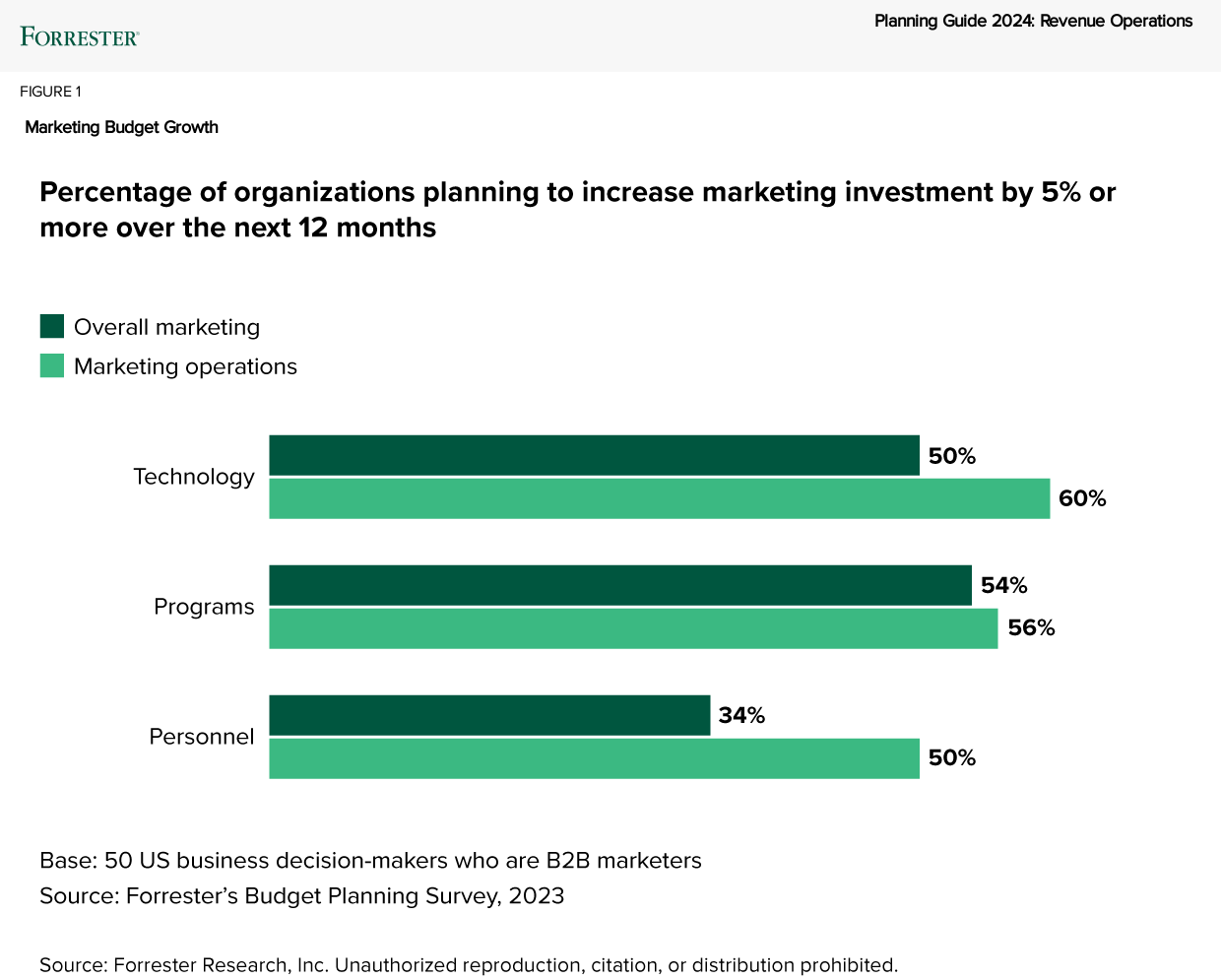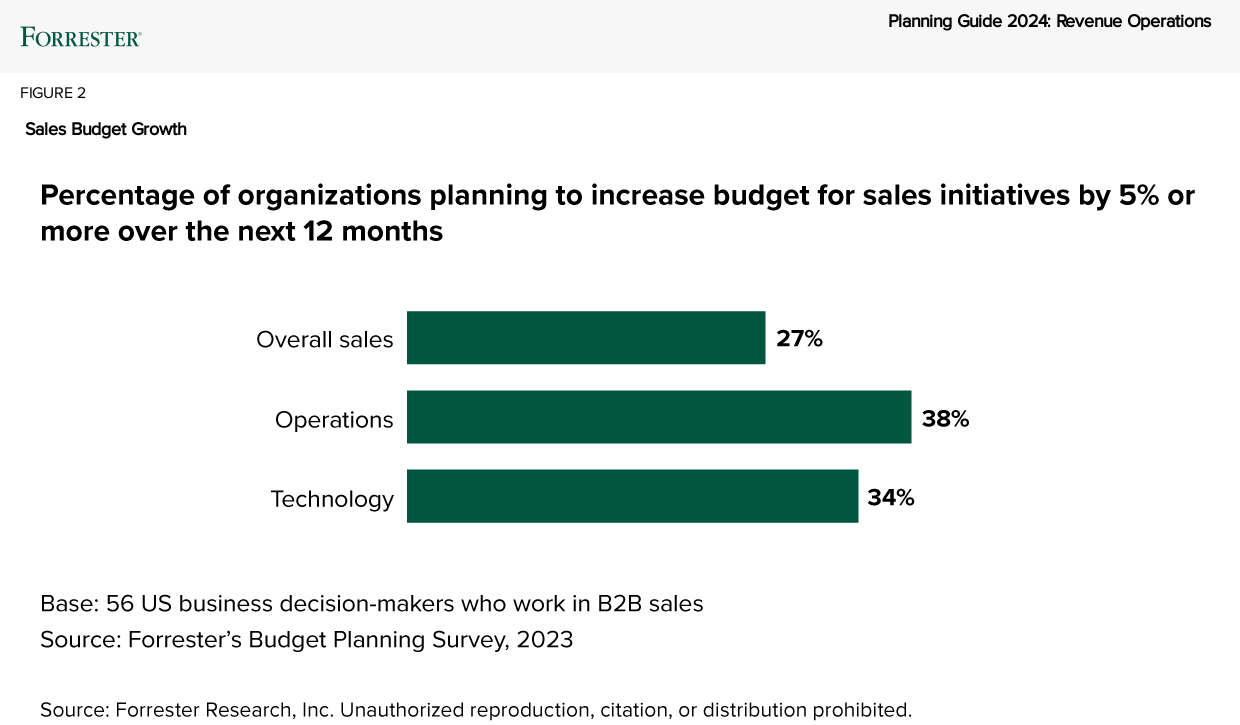 As you bolster revenue operations capabilities for 2024, here are four "must-do's" to make the most of your efforts:
Establish a data center of excellence.

Persistent data quality issues top the list of obstacles standing in the way of B2B marketing organizations connecting with buyers and accomplishing their goals. B2B organizations need to invest in establishing a hub-and-spoke model to centralize complex tasks of managing, maintaining, and using data across the growth engine. Current approaches to data quality and application are overly distributed, diluting both the necessary skill and focus. A new approach, backed with investment, is needed to address the data problems that plague B2B.

Develop a clear line of sight into buying groups.

Improving organizational alignment remains a top priority for leaders across marketing and sales.

Among the most significant causes of organizational misalignment is the lack of shared understanding of buyers and how they buy. In B2B settings, complex purchasing decisions are made by groups of buyers, yet many B2B organizations can only see buyers as disconnected individuals. Fortunately, technology has advanced to the point where there is no excuse for not deploying a solution to map multiple individual buyers to the opportunities that their buying groups are pursuing.

Invest in sales activity tracking.

Marketing has long relied on business systems to capture and log digital touchpoints. But sellers' interactions are often person-to-person and unseen by business systems. Many organizations place unrealistic expectations upon sellers to perform mind-numbing data entry in hopes of capturing these interactions. B2B organizations that deploy AI solutions, like those that can interpret text from calendar appointments, email exchanges, and recorded conversations, will automatically absorb seller interaction data into their business systems. Investing in this area not only frees up sellers to focus on core tasks, but it also provides businesses with insights about buyers that can be used to improve the buyer experience, campaign performance, and company win rates.

Hire a revenue process architect.

Revenue processes across the growth engine are increasingly interconnected and complex. They require high degrees of alignment and advanced technological support and must satisfy rigorous data and insights requirements. To meet this challenge, B2B revenue operations teams must incorporate a new role and fill it with an experienced, senior-level, process-focused leader. The role requires a laser focus, deep domain expertise, and the ability to lead changes to notoriously ingrained processes. While in smaller, emerging businesses, revenue operations leaders may attempt to address this need personally, at enterprises of scale, leading change of this magnitude is a full-time job.
Read more about our recommendations for how B2B organizations should invest, divest, and experiment in 2024 to maximize both revenue operations and customer value in Forrester's Planning Guide 2024: Revenue Operations.
If you're not yet a Forrester client, explore our Planning Guides 2024 hub with complimentary planning resources, and feel free to get in touch.
Related Forrester Content