Protecting Customers From Harm Is A Crucial Part Of Your Financial Well-Being Strategy
On May 4, the UK government launched a new "Breathing Space" scheme in England and Wales. This debt respite scheme gives people struggling with debt problems a 60-day period of legal protection during which all interests and charges on their debt will be frozen while they receive professional debt advice. No enforcement action will be taken during that time. People receiving treatment for mental health problems can get a longer grace period. Debt charities like StepChange have campaigned for years for the introduction of that breathing space as they see the harm debt can cause every day.
Money And Mental Health Affect Each Other
"Mental Health Matters." People with problem debt are significantly more likely to experience mental health issues. Research in the UK shows that one in four adults will have a mental health problem at some point in their life. One in two adults with debts has a mental health problem. One in four people with a mental health problem is also in debt.
Mental health and money problems are often intricately linked. If people experience mental ill-health, it can affect their ability to work and have an impact on their personal finances. Emotional spending can give people a brief high, so they might overspend to feel better. Going through a manic or hypomanic phase may sometimes lead to impulsive financial decisions. Yet some people might not be able to afford essential things they need to feel well — like food, housing, heating, or treatments like medication and therapy. Financial worries can easily trigger feelings of anxiety, panic, or depression. It can quickly start to feel like a vicious cycle.
We are seeing an increase in mental health problems amid the pandemic: Isolation, fear of infection, joblessness, childcare, and other challenges have severely impacted the mental well-being of many people around the world. Financial vulnerability is also rising sharply. In our Forrester Analytics Consumer Technographics® Financial Services Consumer Buyer Journey Survey, 2021, 14% of French online consumers told us that their ability to make financial ends meet has been negatively impacted by the COVID-19 pandemic, while 9% of Spanish online consumers said they felt overwhelmed by debt.
Financial Services Businesses Need To Identify And Protect Vulnerable Customers
Financial well-being has gone up the agenda for many financial services firms amid the COVID-19 crisis. Forrester has published a series of reports to help executives inform their firm's financial well-being strategy.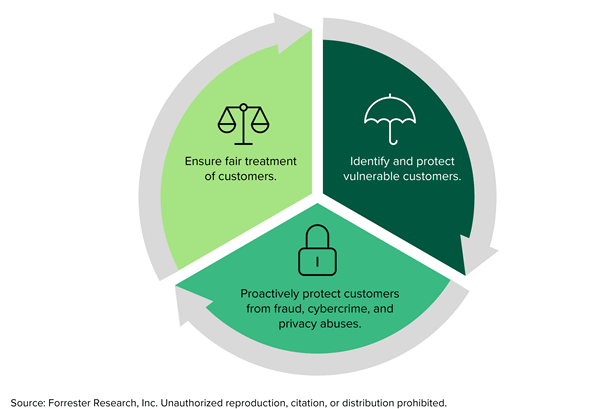 As part of their financial well-being strategy, firms need to focus on financial protection and exercise particular care with vulnerable customers — which include customers experiencing mental health issues. That means anticipating the needs of vulnerable customers by identifying vulnerability sooner, protecting them from harm, and making sure they consistently receive fair treatment. This is an opportunity for financial services firms to build trust and demonstrate purpose. To better protect vulnerable customers, financial services firms should:
To learn more about the well-being opportunity for financial services companies and how to address it, check out my recent podcast.
For Forrester clients, I have a new report "How Financial Services Firms Can Better Protect Customers," which offers guidance on how to incorporate fair treatment and protection of consumers into your organisation's products, processes, and policies and mitigate business risks. Connect via an inquiry to learn more. If you'd like to brief us about what you're doing in this area, reach out to schedule a briefing here.
Related Forrester Content