Rome Was Not Built In A Day, And Neither Are Digital Businesses
As I'm returning from the Eternal City, where I've had the chance to walk around Rome's Baroque architecture gems and explore its awe-inspiring art collections, I cannot stop myself from reflecting on how much talent, courage, and leadership it took to transform and build such an incredible city.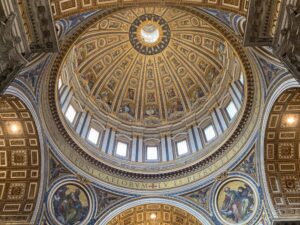 The seeds of the modern world were sown and grown in the Renaissance — the transition period bridging the gap between the Middle Ages and the modern age. Rome wears its history on its sleeve, and its artistic grandeur and historical legacies are still here to remind us that the Renaissance changed the world in just about every way one could think of — culturally, politically, and scientifically — with each new intellectual advance paving the way for further advancements.
Fast-forward to 2019, and it is businesses that need to transform themselves to respond to the seismic shifts affecting every single industry. Our research at Forrester reveals that such transformation also requires talent, courage, and leadership.
Banking is going through a period of unprecedented innovation. New entrants from far and wide such as fintech startups, digital banks, big tech firms, and nontraditional competitors are quickly delivering on customers' increasing expectations, attacking banking's inefficiencies, and rapidly altering banks' competitive landscape, yet as we researched our new report on the state of digital banking in 2019, it became clear that while many banks have woken up to the threats of digital disruption, few have actually embarked on a true digital business transformation. Many banks are struggling to transform fast enough to keep up with the competition and consumers' evolving demands.
Evolution and transformation are not interchangeable terms. But different understandings of the digital opportunity and internal resistance due to the costs involved in overhauling legacy systems mean that banks embrace digital transformation at different speed, with divergent focus and impact. Our research shows that too many banks continue to tackle digital banking as a series of one-off, check-the-box projects, exploring the potential of digital technologies in pockets of their organization or striving to digitize the customer lifecycle from end to end. In the meantime, a dozen of leading banks around the world — such as BBVA, Capital One, DBS Bank, Sberbank, and USAA — are embracing and investing in true digital business transformation, with the aim of delivering compelling digital customer experiences and building strong digital capabilities for the future.
In order to survive and thrive, banks need to accelerate the pace of transformative change and enhance their digital customer experience while also driving agility and efficiency through digital operational excellence. Digital banking leaders:
Use digital technology to deliver great experiences that their customers value. That means offering customers extensive functionality and superior usability across digital touchpoints and personalizing experiences to meet customers' needs.
Build agile operations focused on customers' outcomes. Leaders rearchitect business operations to automate, streamline, or eliminate processes and empower employees with tools and insights to help deliver customer outcomes.
Champion digital innovation. No matter how you go about it — design thinking, Agile development, rapid prototyping, or continuous delivery — you must transform product and experience development by starting small and adapting as you learn with rapid releases. Digital innovators are moving beyond isolated innovation teams and digital labs to innovate at scale.
Invent new business models or transform the very core and model of their existing business. Digital ecosystems are accelerating the pace at which firms can innovate and deliver products and services. As leading banks pivot away from product-centric selling to helping customers achieve outcomes, they engineer interconnected webs of services and business capabilities to meet customers' needs.
Rome was not built in a day, and neither are digital businesses. Becoming a digital business takes talent, courage, and leadership. Digital business strategy professionals might not have the artistic genius of a Gianlorenzo Bernini or a Leonardo da Vinci, but they are ideally placed to play a lead role in defining their bank's approach to digital business.
Want to know more? Check out the full report here or reach out to us by emailing inquiry@forrester.com to request an inquiry call.
Related Forrester Content