Advance Digital Marketing Capabilities And Competencies To Achieve New Outcomes
Compelling digital marketing requires the delivery of targeted, consistent, and cohesive experiences across the entire range of interactions spanning digital channels. As B2B buying decisions have continued to increase in complexity, extensive and shared digital marketing skill sets have become a must.
In my previous blog post, I provided guidance on how to identify the required digital capabilities and competencies. Capabilities and competencies have similar attributes but differ in a number of ways.
Capabilities refer to the ability to perform a task or achieve certain actions or outcomes. Competency is the measurement of how a person performs a capability. Individuals perform capabilities, and marketing leaders manage the skills and knowledge of their teams to gain a competitive advantage, increase output, and enable flexibility within the marketing organization to adapt to changing customer needs.
CMOs often start with "where" in the organization to accelerate the pace of strategic change as shifts occur in the market. The proliferation of new channels and technologies has dramatically changed the way marketers operate, with the "how" answered as digital for the solution. Organizational changes comprise the processes people follow to enable digital capabilities, management of individual performance, recruitment of talent, and development of employees' skills through competencies. Marketing leaders can take the necessary steps to address areas of the greatest leverage through the digital pyramid of purpose.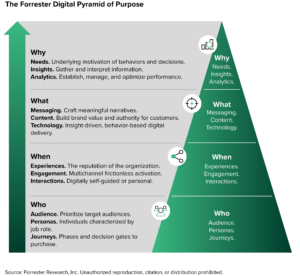 Who: Target Customer Audiences
Forrester's Buyers' Journey Survey, 2022, showed that B2B organizations' top three business priorities are to grow revenue, improve the experience of their customers, and improve their products and/or services. Digital planning informed by customer insights helps marketers more effectively attract, engage, and convert revenue opportunities while retaining existing customers. Digital marketers need to understand the behaviors and preferences of their target buying audiences to deliver compelling customer experiences.
Targeting the "who" in digital requires these capabilities:
Build a customer audience framework to clearly understand where to emphasize digital marketing efforts aligned to revenue growth.
Use the framework to deliver targeted, consistent, and cohesive experiences to prioritized personas across the entire range of digital channels and delivery mechanisms.
Use customer-persona-based journey maps to identify the decision drivers for targeting self-guided interactions and personal touchpoints to elevate campaigns, programs, and content to enrich market plans.
When: Influence Customer Perceptions During Interactions
Digital marketers must embrace their role in creating a consistent digital personification of the organization built on the brand promise. Digital experience connects outputs from customer experience strategies to align business context, customer insights, and intended outcomes. The "who" becomes the foundation to prioritize interactions along the customer journey. Not all journeys start and end in digital channels. Be broad across experiences, narrow to target audiences, and influence customer perceptions as they digitally interact with your organization.
To target the "when" in digital, use these capabilities:
Place customer needs at the forefront so you can positively influence perceptions during the discover, evaluate, and commit stages of a journey through digital experiences. Websites remain number one for all stages among self-guided interactions, according to Forrester's Buyers' Journey Survey, 2022.
Tailor engagement strategies to identify and deliver the right experience in real time by using data from journey analytics and digital technologies.
Recognize that customers move between digital and personal interactions throughout the journey to purchase, and plan for both based on targeted persona preferences focusing on self-guided digital interactions in your digital experience strategy.
What: Attract And Engage Customers
Customers are technologically savvy and increasingly likely to research, explore options, and align preferences with little to no interaction with businesses. Digital marketers must create meaningful experiences that attract and engage, enabling the customer to achieve their goals.
Targeting the "what" in digital requires these capabilities:
Craft effective messaging that starts with the audience context and the challenges customers are trying to solve. Position key messages to engage throughout the buying stages of a customer journey.
Modularize content to scale rapidly and encourage content producers to support personalization and AI-driven delivery through web pages, landing pages, localized pages, SEO, advertising, and marketing programs, inclusive of testing and optimization strategies.
Given the proliferation of marketing technology, assign a single team (whether the digital or marketing operations function) with ownership. Then build an integrated ecosystem to connect critical marketing systems to support engaging customer experiences.
Why: Derive Customer Value And Optimize Delivery
Digital customer experiences provide deeper insights into customer needs, behaviors, and pain points. To meet customer expectations, focus on the most critical elements of the customer journey to give input into digital experience initiatives or projects.
Target the "why" in digital by:
Having customer needs clearly defined to drive messaging across experiences and progress buying decisions. Put a formal process in place to understand and prioritize customer needs to drive high-value messaging and alignment to audiences.
Isolating the right data and collating analytical approaches (with specific business goals in mind) to interpret and analyze insights for optimization plans, and measuring results. Work across key stakeholders to amplify the value marketing delivers aligned to customers and the business.
Balancing organizational and customer value when selecting metrics and analytics for reporting, keeping a customer-first mindset. For example, when digital capabilities are added or expanded, readiness metrics reflect how prepared the organization is to perform (e.g., digital experience initiatives, localization efforts, launch of customer AI-driven personalization). Impact metrics are the most desired for CMO-level dashboards and roll into executive reporting. This might include both organizational and customer values such as how digital supported product offerings, opportunities, revenue, retention, or lifetime value.
The digital pyramid of purpose builds a foundation first, with "who" is the customer. By moving from the base to the top, organizations build the right capabilities and competencies to grow digital skills. The pyramid also illustrates stages to digitally mature organizations. How does marketing enhance customer relationships, drive customer engagement, and streamline processes? Is your organization missing some of the who, when, what, and why? Build a roadmap of what should be added or developed within your function.
If you are looking to modernize digital in your marketing organization, contact your account representation to learn how Forrester and I can help build your digital pyramid of purpose. If you are not a client and would like to learn more, please reach out.
I will also be presenting on two digital topics at Forrester's annual B2B Summit North America event, open to all clients and nonclients, June 5–7 in Austin, Texas, and online, in the B2B marketing executives track: "Reengineer Skills And Modernize Digital Marketing With Purpose" and "Leveraging A Digital Marketing Strategy To Propel Growth." Learn digital trends that are driving change within marketing, and explore best-practice examples that peer CMOs and digital leaders are putting into practice.