Banks Must Align Strategy And Technology To Succeed With Personalization
Today's customers want personalized and consistent experiences across touchpoints and channels when managing their finances and buying financial products. They seek convenience and value through real-time, predictive, and proactive financial experiences that serve their specific needs. Alas, while customers' expectations for value and relevance have rapidly evolved over the past years, many banks have failed to change their approach to personalization to meet — let alone exceed — those expectations. Their efforts are still marketing- and sales-focused and shortsighted, focusing predominantly on the next best product, offer, and action. Forrester defines personalization as:
An experience that uses customer data and understanding to frame, guide, extend, and enhance interactions based on that person's history, preferences, context, and intent.
To become truly customer led, banks should consider the full breadth of a customer's experience with their brand and deliver the "next best experience" (NBX). NBX represents the ability to identify and deliver the right experience to the right customer in real time based on everything you know about the customer.
Effective Personalization Focuses On Customer Value
Personalization can help banks deliver superior customer experiences and build trust and loyalty. By personalizing interactions across the customer lifecycle and across the full spectrum of physical and digital channels, banks can demonstrate to customers that they know them well, understand their needs, and care.
Personalization will help banks differentiate and compete with forward-looking competitors, while at the same time driving sustainable growth by helping customers apply for financial products tailored to their financial needs at the point in time when they need them.
Next-Gen Personalization Requires Enterprisewide Thinking
In our daily conversations with clients, we see that banking executives across lines of business, digital, marketing, customer service, and customer experience teams are all keen to deliver contextually relevant customer experiences. Yet, we also find that personalization means widely different things to different teams. Stakeholders diverge on the definition of personalization, and that leads to divergent — and sometimes competing — objectives, actions, and technology investments.
As banks shift from selling products to promoting the long-term financial well-being of their customers, they must break down organizational silos and put customer needs first to succeed with their personalization initiatives.
Banks need a customer-led strategy to govern cross-functional personalization efforts and to determine the right technology investments. Focusing on customer value can create alignment across teams and help ensure that their respective technology investments are based on customer needs versus internal operational functions. The success of a customer-led personalization strategy depends on a well-coordinated, cross-functional technology investment roadmap championed by both business and technology executives.
Our new report, Chart Your Course To Successful Personalization In Banking, provides banks with a range of tools that will help them chart their course to successful personalization by:
1) Aligning strategy and technology.
2) Mapping and prioritizing customer outcomes that will drive business objectives.
3) Collaborating cross-functionally to coordinate technology investments.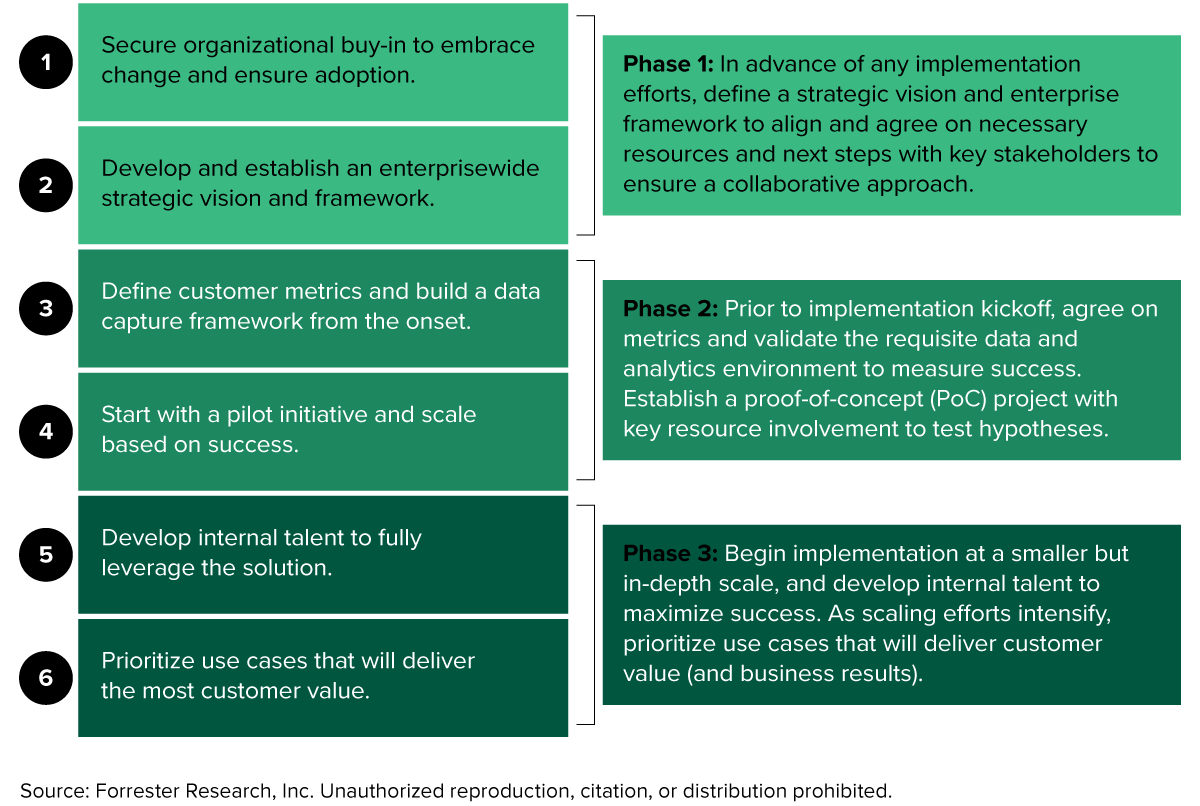 The report also includes requisite technology investment and governance concepts to help banks build a personalization architecture based on systems of insight and engagement, along with a downloadable framework to prioritize customer use cases.
If you would like to speak to us, please feel free to request an inquiry.
Related Forrester Content