The Metaverse Won't Fix Facebook
Facebook continues to battle gale force headwinds. The Facebook Papers still dominate the news cycle, and during today's Facebook Q3 2021 earnings call, the company reported quarterly revenue below market expectations (like Snap, the company pointed to Apple's App Tracking Transparency, or ATT). To counter, Mark Zuckerberg emphasized the company's commitment to help bring the metaverse (as the next computing platform) to life, indicating that it would be "a major part of" Facebook's investment going forward. It plans to spend at least $10 billion on metaverse-related projects this year and is changing its financial reporting to separate revenue between Facebook Reality Labs and its family of apps.
More details about Facebook's metaverse strategy (including a rumored parent company name change) will be revealed at this Thursday's Facebook Connect conference. Ahead of that, Forrester finds that consumers largely remain neutral about Facebook becoming a metaverse company. And if it continues to struggle curbing issues around mis/disinformation, extremist content, consumer privacy, teen safety, etc., then these same issues will fast follow Facebook into the metaverse.
Changing Facebook's Name Doesn't Change Its Reputation
Forrester polled 745 adults in its CommunityVoices Market Research Online Community (MROC) across the US, Canada, and the UK about their attitudes on a possible Facebook parent company name change (see Figure 1). The results of the poll indicate that:
86% of those polled agreed that changing the company name won't change Facebook's reputation.
12% feel more positive about the direction of Facebook, given a possible company name change.
75% disagreed that a new company name will increase their trust in Facebook.
88% agreed that Facebook should first address its core reputation issues before changing its company name.
As for Facebook becoming a metaverse company, most (45% of those polled) were neutral on the matter, signaling a "wait and see" attitude as many consumers still don't understand what the metaverse is.
Figure 1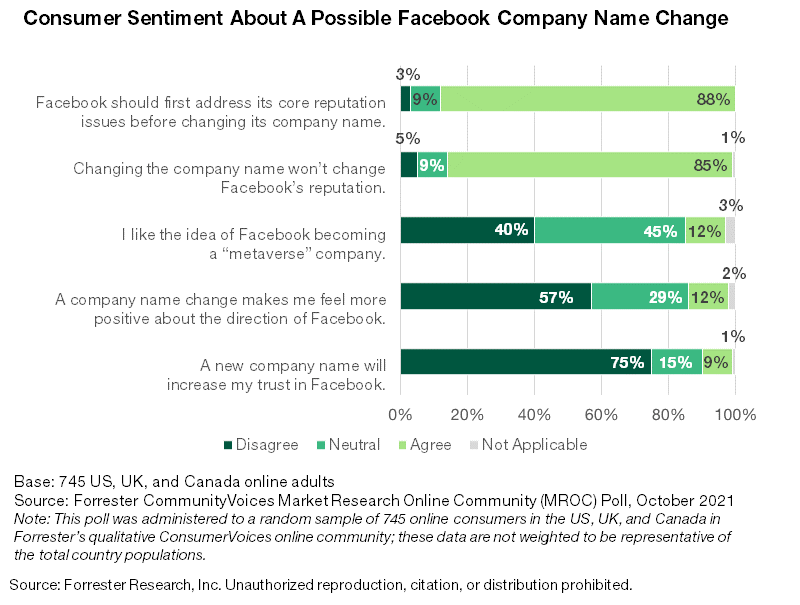 Consumers Want Substantive Changes To Facebook, Including Leadership
In the wake of Facebook whistleblower Frances Haugen's congressional testimony and the six-hour global outage that affected Facebook's ecosystem of apps, Forrester included a question in its October 2021 Consumer Energy Index And Retail Pulse Survey. We asked 1,003 online adults (507 US and 496 UK) about their current thoughts and behaviors around Facebook — its apps and the company as a whole (see Figure 2). Consumers' desired changes include:
Modifying the UI with misinformation alerts and a chronological newsfeed. Over half of US online adults (and nearly half of UK online adults) want to see Facebook permanently add "read before sharing" prompts to mitigate the spread of misinformation (54% US and 47% UK). They also want Facebook to remove algorithmic ranking of posts and go back to chronological newsfeeds (51% US and 44% UK).
Imposing new leadership and regulatory measures. Nearly half of US online adults (47%) and a third of UK online adults (31%) want Facebook to replace its executive leadership. Similarly, 43% in the US and 36% in the UK want the government to force Facebook to break up into separate companies for each of its apps (Facebook, Instagram, WhatsApp, Oculus VR, etc.).
Forrester's survey also revealed general ignorance of Facebook's app ecosystem footprint. Almost half (48%) of US online adults didn't realize "until now or recently" that Facebook also owns Instagram and WhatsApp. This adds to the case for Facebook to change its parent company name to distinguish its apps from that of the company to mitigate further confusion.
Figure 2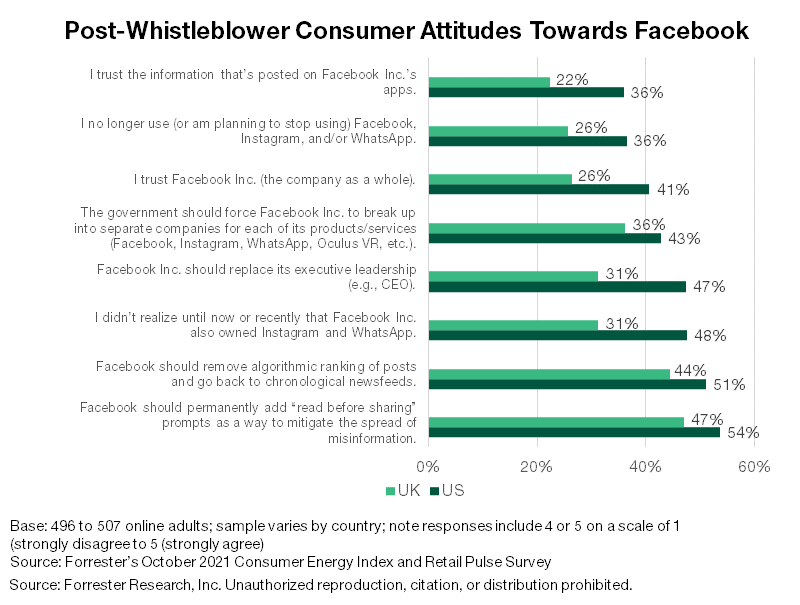 Marketers: Be Proactive To Be Part Of The Solution
No, the metaverse won't fix Facebook. Facebook must fix itself or be forced to change by several stakeholders responsible for solving the mounting issues surrounding the company: consumers, parents, regulators, and, yes, the marketing community. Over the past two weeks, Forrester laid out a number of proactive actions for marketers to take for their part of the solve, including:
Marketers, how do you plan to approach Facebook in 2022? Tweet me your thoughts at @McProulx, or set up a Forrester guidance session with one of our media analysts.
Thanks to Jessica Liu for contributing to this blog post.