There Is No Single "Personalization Technology" Category
Tackling consumer personalization requires strategy, data, and technology (see figure). When it comes to the third pillar, technology, consumer personalization capabilities are baked into many different technology categories across the business technology ecosystem. Companies must strive to harmonize multiple tools to deliver personalized moments that can occur anywhere in the customer lifecycle. Instead of focusing on a single magic solution to deliver all of your personalized needs, think about how your orchestra of technology comes together to fulfill five functional categories:
Recognition

:

Pinpoint relevant characteristics about the customer.

Technologies here might include customer data management, zero-party data solutions, identity resolution, and journey mapping tools.

Insights: Understand the customer's context

. Customer analytics technologies, journey analytics platforms, and some digital intelligence technologies support this.

Decisioning: Determine the customer's next best experience.

Real-time interaction management, creative advertising technology (adtech), and customer journey orchestration platforms are common.

Delivery: Orchestrate the customer's brand interaction(s).

There is no shortage of adtech, channel-delivery marketing vendors (e.g., email marketing platforms, mobile engagement automation solutions, social suites, etc.), commerce tech, and customer service tech.

Optimization: Continuously improve the customer's brand relationship.

While all tech categories incorporate some optimization within their niche areas, marketing resource management, marketing measurement and optimization, and experience optimization platforms run behind the scenes.
Note: A few categories such as enterprise marketing suites, cross-channel marketing hubs, and loyalty technology solutions attempt to deliver on all five areas.
For our complete consumer personalization research stream:
Consumers:

The State Of Consumer Personalization

.

 Our data analysis depicts a disconnect between what consumers want in personalized interactions versus what companies actually deliver to those consumers.

Strategy:

A Strategy Guide To Consumer Personalization

.

 Personalized moments occur across the customer lifecycle: pre-purchase, at-purchase, and post-purchase. Those moments also occur at different depths, from general segmentation to specific anticipatory experiences.

Data:

A Data Primer For Consumer Personalization

.

 Ongoing

data deprecation

accelerates companies' need to understand different data categories (zero-, first-, second-, and third-party data) and different data types (static to dynamic) to fuel personalized moments.

Technology: A Technology Overview Of Consumer Personalization [new!].

 An ecosystem of technologies must work together to fulfill five functional categories: recognition, insights, decisioning, delivery, and optimization.

Measurement:

A Business Case For Consumer Personalization [publishing later in 2023].

This report will explore the appropriate customer and company metrics to measure your personalization efforts.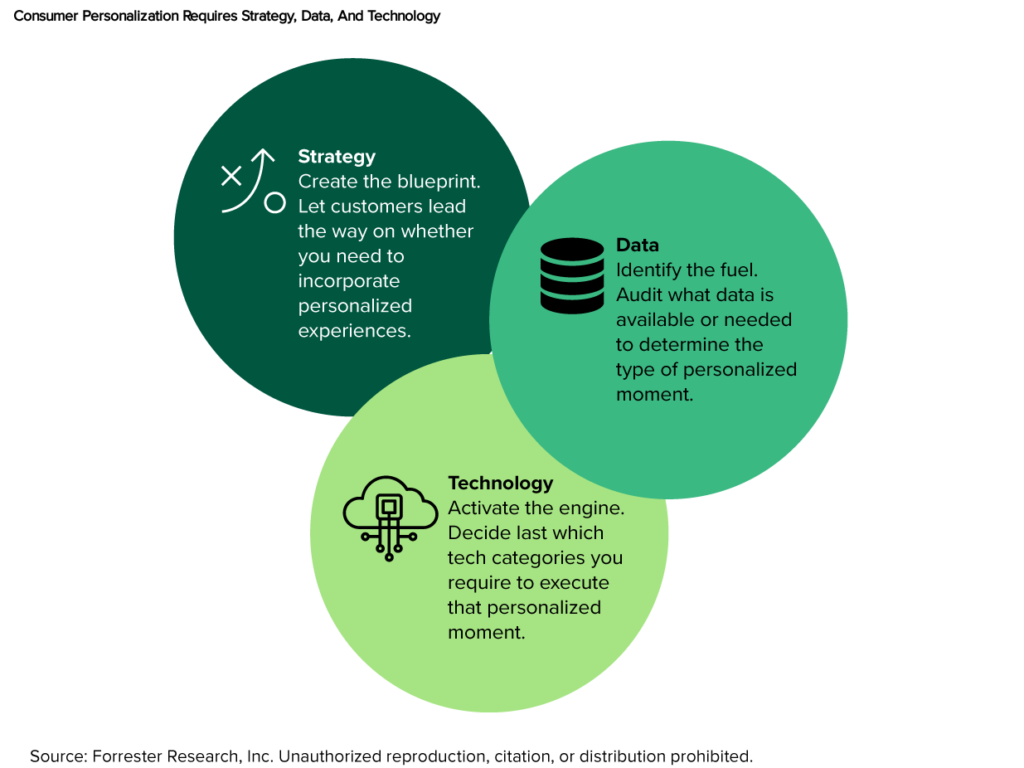 Shout-out to this talented dream team for making this technology report a reality: Cole Walsh, Joe Stanhope, Stephanie Liu, Rusty Warner, Brandon Purcell, Joana de Quintanilha, Tina Moffett, Nikhil Lai, Emily Pfeiffer, Christina McAllister, Mary Pilecki, Emily Collins, Bruna Venicio, and Christine Turley.