Make Agile A Stepping Stone Toward Future Fit Adaptability
Future Fit Organizations Are Adaptive
COVID-19 has accelerated the need for enterprises to adapt to rapidly changing market conditions. Microsoft CEO Satya Nadella in April 2020 told thousands of developers at the online Microsoft Build conference, "We've seen companies do in two months what they normally would do in years." The pandemic taught us that we really don't know what's around the corner. We can have a great vision, long-term plans, and innovative ideas, but a natural disaster or geopolitical event could wipe out all those carefully laid plans.
Analyzing the future through a crystal ball is not enough. Creating upfront, fixed plans doesn't work. Instead, we need to be ready for continuous change, be adaptive, creative, and resilient, and adjust quickly with "just in time" planning and execution. Being adaptive is one of three core competencies of what Forrester calls a future fit organization. Let's explore how to reach adaptability and help you deal with the unknown, drive organizational flexibility, and react to rapid change.
The Agile Manifesto Is At The Heart Of Any Truly Agile Organization
For many tech leaders, being adaptive is the same as business agility. However, the execution engine for adaptability is your software development and delivery capabilities. Your business can't be adaptive if you don't have great software delivery capabilities. That's why "Agile" has become foundational to being adaptive and for achieving business agility. (Note: I will refer to agile with a capital "A" in this blog going forward to give a broader meaning to the word and also to explain what "Agile done right" means.) Our research shows that over 72% of enterprise development leaders executed Agile capabilities or were planning to be more Agile in 2019–2020. The Agile Manifesto, published almost 20 years ago, is still the cornerstone for any truly Agile organization.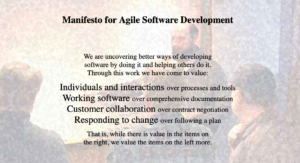 My first point is this: Being truly Agile goes beyond the Webster dictionary description of the adjective. Webster defines agile as "having a quick resourceful and adaptable character" or "marked by ready ability to move with quick easy grace." Agile as defined by the Agile Manifesto carries a broader meaning: the core values and the 12 principles. The Manifesto's definition of Agile carries the meaning of the Webster dictionary definition as a mandatory condition, but not as a sufficient one.
So, what does it mean for enterprises in 2021 to be truly Agile (and therefore adaptive)? Start by going beyond just adopting agile (lowercase), and develop your cultural DNA and organizational strategy around the values and principles established in the manifesto. I always encourage my clients to read and understand the four values and 12 principles of the Agile Manifesto and create their own enterprise version of them. Fidelity Personal Investments did this successfully. By the way, in 2021, we will see those values and principles being adopted and leveraged not just for software development, but also for other product development programs/projects, whether they're in sales, marketing, or other business areas.
Build Your Adaptive Enterprise On Agile Done Right
Leveraging the Agile quality based on the manifesto's values and principles is the first vital step to becoming a future fit organization that leverages adaptability as a way to drive customer value and meet enterprise business goals. This means:
There's more I could add to this list, such as Agile outsourcing, Agile partners, Agile budgeting and funding, and Agile portfolio planning. So, I encourage clients to navigate through our research. If you want to avoid your organization to just pay lip service to Agile, start from the manifesto: Adapt its values and principles at scale, and with every value stream, extend your agility. Done well with discipline and focus, you'll be adaptive and ready for the next unknown.
This summer, I'll be reaching out to you again with the biannual State of Agile Adoption Survey. Let me know if you are interested in participating, and we'll make sure to send you a link. You'll get the free report based on the data. We'd love your cooperation. If you're a Forrester client and want to talk more about how to become an adaptive enterprise, please book an inquiry with me or share your feedback by writing an email to dloigudice@forrester.com.