Your Global Martech Stack Isn't Cutting It In China
More and more marketers at global brands in China, such as Coca-Cola, McDonald's, Volkswagen, and Walmart, are replacing their globally contracted marketing technology (martech) vendors with viable Chinese ones. They have realized that deep localization is the only way to succeed. This requires not only China-specific marketing strategies and local decision-making power but also deep engagement with local partners, including tech vendors. My recently published report, "Your Global Martech Stack Won't Cut It In China," guides global marketers through China's dynamic martech ecosystem to better localize their martech stack in the country.
A global martech stack won't work for marketers in China, where the digital world is wired completely differently than in Western markets (see Figure 1), because global vendors:
Are not really serious about China. Many global martech and advertising technology (adtech) vendors, even top global vendors such as Adobe, Oracle, and Salesforce, lack a significant business presence in China, across areas from data management platforms (DMPs) to marketing measurement to enterprise marketing software suites.
Seldom adapt their solutions to local market needs. Global martech tools are mostly designed for PC-centric marketing initiatives and skew heavily toward website and email marketing. They don't fit well in a market that relies heavily on WeChat and eCommerce marketing. Trivial localization moves, such as WeChat public account integration, that most Western martech vendors have made are far from enough.
Aren't committed to solving localization challenges. The "Great Firewall" and data localization cripple global vendors. And while a few firms, like Apple, are committed to moving data storage locally, very few martech vendors have followed suit.
Have yet to adjust culturally. The Chinese market is rapidly evolving, but global vendors aren't used to immediate response yet. Marketers require agility and flexibility, and many ask for customized solutions — but global vendors seldom offer customization or on-demand features.
FIGURE 1    China's Digital World Is Wired Completely Differently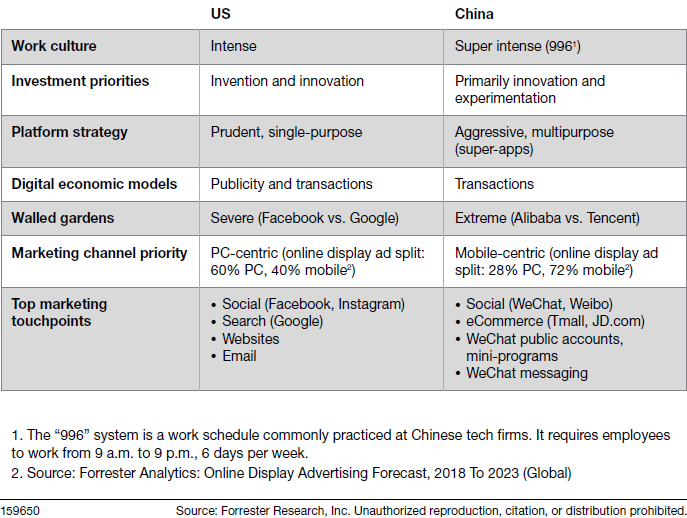 Meanwhile, Chinese martech vendors are growing rapidly, and their offerings now represent viable options. From DMPs to cross-channel campaign management, Chinese vendors provide solutions better attuned to local market needs. The report helps marketers navigate the Chinese martech landscape strategically, understand the availability and maturity of local technologies, and prioritize technologies based on core marketing use cases.
Marketers should shift their mindset to assemble a local martech stack to support their marketing strategy in China. To do so, they need to work with internal technology teams closely to identify technologies that are most important to support their core marketing use cases, review existing technologies and internal systems, and evaluate short-listed vendors' offerings strategically. To learn more, Forrester clients can read the full report.
I also look forward to sharing key insights of this report on our upcoming WEBINAR: Forrester's Guide To Vendor Localization Strategy In China on April 14, 2020. Please join me and my colleagues Charlie Dai and Danny Mu at the time.