Tech Leadership Churn In Australian Banks — Correcting The False Promise Of Bimodal IT
In early March, we held our fifth annual Financial Services Summit 2020 in both Sydney and Melbourne, where I presented on how customer-obsessed CIOs are driving business success by:
Accepting that the firm's ultimate customer is also IT's customer.
Engaging across a wide, business-focused field while taking responsibility for revenue-generating initiatives.
Leveraging design thinking and Agile methodologies across the business and IT to co-create solutions with customers.
I showed the 100-plus attendees that by behaving in these ways, CIOs can help their firm significantly improve customer experience (CX). Why does this matter? Because firms that improve CX grow revenue faster, drive higher brand preference, and can charge more for their products than their peers. For example, an average multichannel bank that can solve customers' problems quickly can expect its customers to be up to 8x times more likely to spend more, thereby increasing revenue by USD$35.6 million (see the reports "The ROI Of CX Transformation" and "CX NYC 2019 Day One Highlights: Your Guide To Radical CX Innovation").
Busting The Myth Of Bimodal, Or Two-Speed, IT
So what's holding firms back? Many organizations continue to believe the myth of bimodal, or two-speed, IT: the idea that, somehow, organizations will gain an edge in the age of the customer by having two technology portfolios run by two different leaders.
This is a furphy (as we would say in Australia) that persists despite:
Business frustration, polarizing and deteriorating cultures, and unsustainable operational complexities. Technology leaders know the shortcomings of a bimodal IT operating model when it comes to speed, agility, and innovation. For example, specialized digital units typically pursue disruptive opportunities, which often lead to front-end apps or proofs of concept that are impossible to integrate and scale with the same speed at which they were developed. (See the blog The Downside Of Digital Labs For Financial Innovation and report "Digital Labs Are A Temporary Fix.")
CX leaders having a single, business-minded CIO who owns front- and back-office technology. Customers don't care about firms' internal technology silos. But they absolutely care about the quality and consistency of the experience they receive. For example, an airline will erode all of the customer goodwill that it built through its mobile app when its outdated crew management system can't get a new crew mobilized fast enough to avoid late arrivals and missed connections. (See the reports "CIOs At Firms With Great CX Are Different" and "Look Beyond ERP: Introducing The DOP.")
Move Now To Integrate Business Technology And The Back Office
How do you spot a bimodal approach? Just look for a technology leadership duopoly between a CIO and separate chief digital officer at the executive committee. Approximately one-third of attendees at my Sydney session acknowledged the presence of both roles in their firms. But change is well underway.
Only one week prior to the Summit, the Commonwealth Bank of Australia (CBA) announced the departure of its chief digital officer. One week after the event, Suncorp lost both its chief information officer and head of banking and wealth technology.
For CBA (ranked eighth in the report "The Australia Customer Experience Index, 2019"), this is an opportunity to consolidate its market-leading mobile banking app (among other digital capabilities) under CIO Pascal Boillat in order to operationalize CX improvements. For Suncorp (ranked third), the announcements present a risk that, in the search for fresh talent, the organization is being lured back to a polycephalic model — a model that we know does not deliver the CX-driven success that financials services firms need.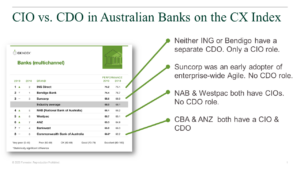 Will both these firms follow the example of CX leaders elsewhere and empower their CIOs to lead digital efforts by orchestrating the enabling technologies, closing the digital skills gap, and linking arms with CMOs and other executive peers better positioned to address the transformational issues across business silos? (See the report "Predictions 2018: CIOs Make The Chief Digital Officer Obsolete.")
Only the voice of the customer will tell.