There Is No Metaverse Today, But Be Prepared
Look Beyond The Hype To Uncover The Real Opportunities
The metaverse has been a source of much promise, confusion, and speculation. Media headlines tout any extended reality (XR) experience as "the metaverse," but it's misleading: The metaverse doesn't exist today; only a few precursors do. And we're years away from the actualization of the internet's 3D layer of interoperable and interlinked immersive environments.
Our just-published report, The State Of The Metaverse, establishes Forrester's definition and point of view on the metaverse and recommends that business leaders plan for future opportunities — by experimenting with metaverse precursors — while tempering expectations and investments.
Consumers Remain Skeptical Of The Metaverse And Meta
While companies jockey to build the metaverse, consumers remain skeptical: According to Forrester's December 2021 Consumer Energy Index And Retail Pulse Survey, about a third of online adults (34% US and 28% UK) are excited for the metaverse and less than 30% (29% US and 25% UK) think the metaverse will be good for society.
In February, we asked Forrester's ConsumerVoices Market Research Online Community (MROC) to describe the "metaverse" (see Figure 1). Responses (reflected in the word cloud below) reveal how Facebook disproportionately shows up — a credit to Facebook's October 2021 name change to Meta. In fact, nearly half (47%) of US online adults (and 37% of UK online adults) who indicate they know what the metaverse is, associate Meta with the metaverse — more than any other company we surveyed in our December 2021 Consumer Energy Index And Retail Pulse Survey. However, far fewer (22% US and 17% UK) think that Meta is the leader in building the metaverse.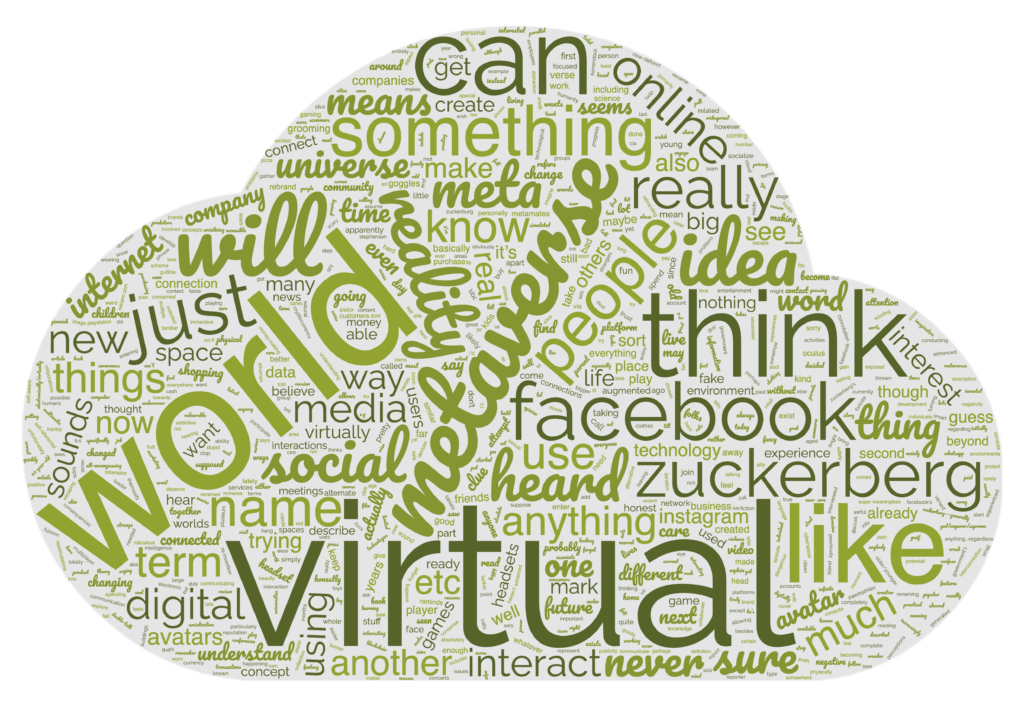 Enterprise Innovation Is The Surprise Route To Metaverse Adoption
Metaverse-style experiences have a better chance of driving near-term value in the workplace. In the wake of the pandemic, organizations have embraced anywhere-work strategies — more distributed forms of work — including hybrid office strategies. Anywhere work opens up a need for innovative tools that can help connect employees, like the virtual office in the cloud employed by early adopter Accenture. Built on metaverse-style experiences, the concept of a virtual office in the cloud incorporates metaverse precursor technologies like avatars, virtual rooms, and digital whiteboards.
But enterprise experiences will require employees to climb a steep learning curve. After they do, we think something interesting will happen: reverse consumerization of IT, whereby some employees who learn how to use metaverse-style experiences at work will want to use them at home, too.
Read our full report to dive deep into:
What the metaverse is and what the metaverse isn't.
Forrester's three phases of metaverse maturity.
How the metaverse will affect the customer experience (CX).
Forrester's consumer metaverse adoption segmentation.
Why the future of work is the key to unlocking the metaverse.
The tech and non-tech headwinds facing the metaverse as it's being built.
What CMOs, CIOs/CTOs, digital, design, HR, and operations leaders should do next.
And be sure to register for our April 8 webinar, "The State Of The Metaverse: Look Beyond The Hype," and attend our June 7 panel, "Ready Player Brand: Marketing In The Metaverse," at CX North America.
Related Forrester Content