Troubled Times Test Traditional Tech Titans
Cisco Systems stock fell over 11% today after it delivered its latest quarterly earnings yesterday. Cisco beat street estimates, but it fell based on a 9% year-over-year (YoY) decrease in revenue and a weak outlook for coming quarters. Our research indicates a coming drought in infrastructure tech spending, so the next few quarters — likely to exceed a year — will be tough for Cisco.
It is not alone. HPE reports on August 25, and we expect it will also show a steep YoY decline. Both companies reported heavy losses in the last quarter, as well (Cisco down 8% and HPE down 16%).
Dell was a mixed story last quarter (flat revenue YoY), and it also reports later this month. Its Client Solutions Group unit (PC business) was decent, with a 2% revenue increase, but its Infrastructure Solutions Group (ISG) unit (data center business) tracked Cisco and HPE with an 8% loss. I expect this mixed story to continue but losing ground overall. The PC business was strong because the work-from-home surge drove demand for more PCs. The ISG unit will struggle.
The market for data center hardware is soft, and not just because of COVID-19. Like so many other trends, the pandemic didn't yield anything new, but it did significantly accelerate almost every trend. Spending on teleconferencing exploded while data center spending slowed considerably. Zoom last reported a mind-blowing 78% revenue increase in March. It reports at the end of August, as well. Expect another magnificent quarter. Microsoft also saw a healthy 13% YoY increase, riding heavily on extreme growth in its Teams platform and also in general cloud computing services.
As you can see in this graph, core infrastructure is dropping — and it was even before COVID-19 reared its ugly head. The companies above the 0% line are growing, while those below the line are contracting. This sets the stage for a rough ride for most of the traditional tech titans. Microsoft and VMware both continue to grow nicely, but the rest face serious headwinds. We will soon publish a more extensive report on this market trend and what it means to you — the tech buyer.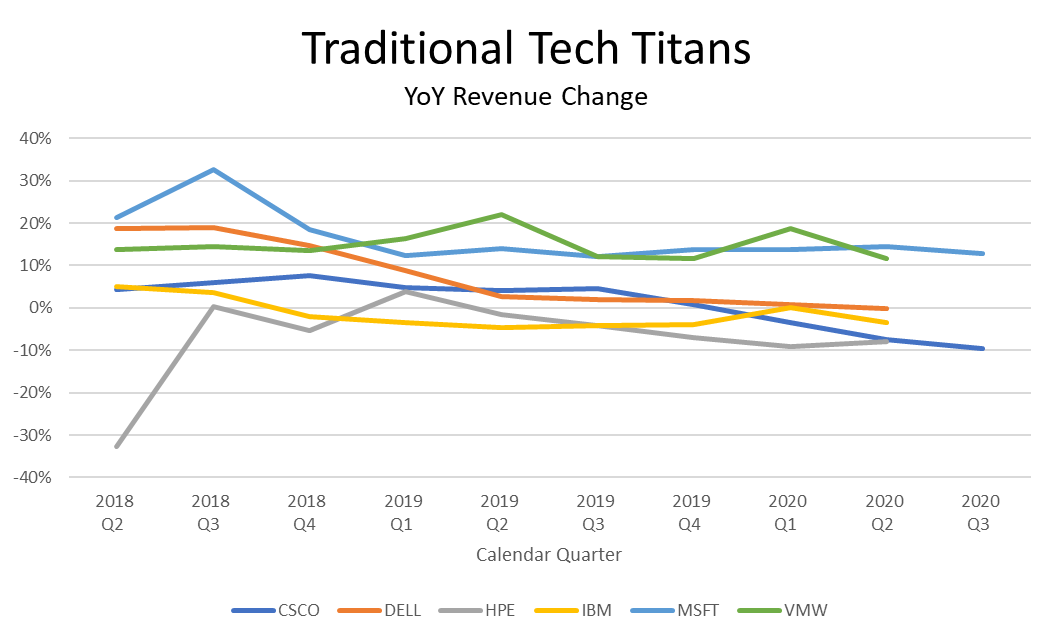 The pandemic effect will be long-lasting. As we saw in prior economic crises, the developments that carried business through the crisis remained in place. We will continue to engage a lot of work-from-home employees and attend a lot of virtual conferences even after COVID-19 is behind us. As many companies shift their infrastructure to cloud services through this pandemic, those migrated systems will almost certainly remain in the cloud.
That doesn't mean on-premises technology is dead, so don't jump to that conclusion. It is in decline, but the end state is not zero. Just as the mainframe will be around forever, so will enterprise data centers. In fact, we see strong growth ahead for hyperconverged infrastructure and infrastructure automation. Also, as companies expand smart business based on internet-of-things technologies, edge computing will be a hot growth area.
The traditional tech titans need to step up to this new challenge. None are safe, but there is hope for all of them. If you think they are too big to fail, recall the fate of such powerhouses as Digital Equipment Corporation (DEC) and Sun Microsystems. Our upcoming report will examine why giants fall and why it will happen again. Corporate dogma is the greatest disease they face. It killed DEC and it killed Sun — which ironically launched the assault that killed DEC. Microsoft took bold action after Satya Nadella took over. His courageous moves turned Microsoft from a lumbering giant sloth to a nimble muscular giant that is now cool again. The next several months will be turbulent in traditional tech. Your own success depends on the viability of your tech partners — or "vendors," if that's your unfortunate approach.